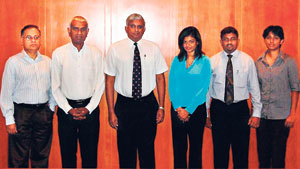 Picture shows the Senior Management of Finlays with the MTI Consulting team (Suanthri Abeysundera, Chamikara Gunawardane and Saanchika Weerasinghe).
Finlays PLC, a subsidiary of the multinational James Finlay, UK have retained the services of MTI Consulting for an International Marketing Strategic Audit.
Finlays, Sri Lanka is a long established, diversified company engaged in tea exports & warehousing, insurance brokering, airline agency business, environmental services and temperature-controlled logistics.
MTI Consulting is an international strategy consultancy with a global team focusing on Strategy Consulting, Corporate Finance, Human Resource Management, Marketing and Research and Analytics.