NEW YORK, Nov 4 (Reuters) - Investigators expect more people to be charged in the Galleon hedge fund insider trading case, and they said they have cooperating witnesses to strengthen their case against the fund's billionaire founder, Sri Lankan-born Raj Rajaratnam.
In statements at a court hearing and in briefs on Wednesday in parallel federal civil and criminal cases, the government signaled publicly for the first time since Rajaratnam and five others were arrested on Oct. 16 that its net was widening.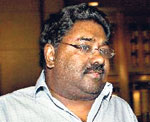 Raj Rajaratnam
"There is a real possibility that we will be adding additional parties," U.S. Securities and Exchange Commission lawyer Valerie Ann Szczepanik said in a Manhattan court hearing in the civil case. "We can't comment on the timing." Federal prosecutors have described the case as the biggest-ever hedge fund insider-trading scandal, involving executives of some well-known U.S. companies, including Intel Corp's venture capital arm, International Business Machines and McKinsey & Co management consultants.
Rajaratnam, 52, and the five other defendants are free on bail. In court papers asking a judge to jail Rajaratnam because he may be a flight risk, prosecutors mentioned Roomy Khan, a convicted felon and former Intel employee cited as a cooperating witness in media reports as well as in an Oct. 29 letter to the court by Rajaratnam's lawyers.
"This attempt to undermine the government's evidence falls flat," the prosecutor's brief in a Manhattan federal court said. "As the complaint itself makes clear, the defendant's assertion that the government's case hinges on a single witness is false," it said. "This case involves wiretap evidence of the defendant making incriminating statements that would be strong even absent the testimony of any cooperating witness. In addition, there is more than one cooperating witness."
The document does not identify the cooperating witnesses, and mentions Khan only in response to last week's letter from Rajaratnam's lawyers, seeking to reduce his bail to $25 million from $100 million and to ease his travel restrictions. Rajaratnam's lawyer John Dowd declined to comment on Wednesday. Prosecutors have said the case is the first time court-approved telephone wiretaps were used in a Wall Street insider-trading investigation.
The SEC complaint said the unlawful trading involved inside information concerning 10 different companies, including Google Inc, Hilton Hotels Corp and Intel.
Rajaratnam's lawyers on Wednesday asked a judge to order the government to provide the court orders and applications authorizing intercepted conversations on which its allegations are based."The government was required to produce this material by statute but impermissibly failed to do so prior to utilizing the evidence to its advantage," the letter to U.S. Magistrate Judge Theodore Katz said. In the civil case, which usually is superseded by the criminal case, U.S. District Judge Jed Rakoff on Wednesday set Aug. 2, 2010, for the start of a jury trial.
He rejected a joint proposal by the SEC and some of the defense lawyers to put the civil case on hold for 90 days to obtain and review electronic surveillance material obtained in the criminal case. In the meantime, Galleon continued to steam ahead with plans to liquidate all of its assets and, it hoped, find new jobs for its traders and analysts. Galleon in an investor letter Wednesday said it has been contacted by several investment firms inquiring about potentially hiring its employees and that it planned to return capital in the coming months.
Most capital will be returned shortly after Nov. 30 fund values are calculated, with the remainder distributed once year-end results are audited. The New York-based firm said it continues to weigh strategic alternatives for its funds and its employees. Galleon stressed that its funds "performed well in October,despite having to wind down our portfolios."
US insider trading probe widens, ensnares 14 more
Nov 6, Reuters -- Fourteen people were charged with fraud and conspiracy in a dramatic widening of an insider trading scandal that has ensnared hedge fund managers, top Silicon Valley executives and a bevy of white-shoe advisers.
In complaints, investigators alleged suspects dropped off bags full of cash, used prepaid cellphones to dodge wiretaps, and used nicknames such as "the Greek" and "the Octopussy." "Some of the defendants -- taking a page from the drug dealer's playbook -- deliberately used anonymous, hard-to-trace, prepaid cellphones in order to avoid detection," U.S. Attorney Preet Bharara told a news conference on Thursday.
"When sophisticated business people begin to adopt the methods of common criminals, we have no choice but to treat them as such," he added.
Federal prosecutors have alleged $40 million of insider trading profits from their investigation so far. The U.S. Securities and Exchange Commission has alleged $53 million of illegal profits in its own civil investigation. The SEC total includes some profits not reflected in the criminal probe.
The latest charges involve some of the same companies and individuals implicated in the Galleon Group insider trading scandal that broke three weeks ago. It was unclear whether the illegal networks were linked."People will probably ask just how pervasive is insider trading these days? Is this just the tip of the iceberg?" Bharara said. "We aim to find out."
Rajaratnam bail remains at $100 million
The Galleon case is already the biggest hedge fund insider trading scheme in Wall Street history, and in Thursday's complaint one of the suspects admitted to years of insider trading apparently overlapping with his time at a former job at SAC Capital, perhaps the nation's best-known hedge fund. Raj Rajaratnam, Galleon's billionaire founder, is accused of masterminding the operation. He lost a bid to have his $100 million bail reduced, though a U.S. magistrate judge agreed to ease his travel restrictions.
The Galleon case is turning into one of the biggest insider trading rings since the Ivan Boesky scandal of the 1980s led to the end of a gilded age for Wall Street and ultimately brought down Michael Milken's Drexel Burnham Lambert.
Investigators' aggression in the current probes contrasts with the years of failure to spot the Ponzi scheme masterminded by Bernard Madoff. "The regulatory cops are saying in a very loud voice, 'We're back on the beat,'" said Michael Holland, founder of the money management firm Holland & Co in New York.
Prosecutors introduced a new group of suspects including a former Moody's Corp analyst, an executive with a wirelessnetworking firm, and others who were among those charged with leaking confidential information about takeovers and other activities. Deep Shah, a former Moody's ratings analyst, and Ali Hariri, a vice president at wireless networking chipmaker Atheros Communications Inc, with leaking confidential information.
Hariri, 38, was arrested in San Francisco. Atheros said it put him on leave pending the results of an internal probe into his alleged insider trading.