The Central Bank has increased purchases of gold to keep pace with Sri Lanka's growing foreign exchange reserves. The Central Bank has traditionally maintained a portion of national reserves in the form of gold. However, with gold prices on an increasing trend and reserves coming to US$ 5 billion, the Central Bank has now increased gold purchases.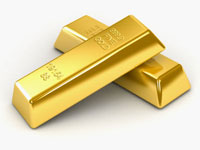 "We have increased our gold purchases in keeping with reserve requirements. This is only for reserve purposes. All Central Banks keep a certain percentage of their reserves in gold. Sri Lanka has also had a certain percentage of reserves in gold for a long time, as well as in other currencies, like US dollars, euro, and yen.," an Assistant Governor of the Central Bank, Dr. P.N. Weerasinghe, told the Sunday Financial Times on Friday.
The Central Bank says the gold reserves are a risk mitigation mechanism. "The reserves are maintained in different currencies and gold, to diversify our reserve portfolio, to be able to mitigate risks," said Dr Weerasinghe.
The current increase in gold investments is mainly due to the growth of Sri Lanka's reserves. "We have increased the share of gold in our reserves because our reserves have grown. As an example, if we had 5% of our reserves in gold when our reserves were US$ 1.3 billion, then, when our reserves increase to US$ 5 billion we need to increase gold purchases to maintain the same 5%. The outlook for gold prices is also in an increasing trend," said Dr Weerasinghe.
The Central Bank did not comment on how much gold purchases it hoped to make this year. Some months back the opposition United National Party accused the Central Bank of selling gold reserves that belonged to the government, a charge that was denied by the bank.