Her writing, her life and her views on political dynasties, will be what Pakistani journalist and poet Fatima Bhutto, granddaughter and niece of former Pakistani Prime Ministers Zulfikar Ali Bhutto and Benazir Bhutto, will talk about at a special literary evening to be held on November 10 at 7 p.m. at the Park Street Warehouses.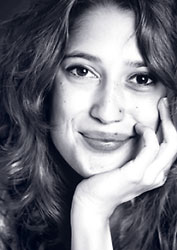 Pic by Amean J
The evening, followed by dinner at the Park Street Mews, is presented by the Galle Literary Festival. Afghan-born Bhutto's first collection of poetry, Whispers of the Desert, marked her rise to popularity as one of Pakistani's new literary voices and won her critical acclaim.
Her second book 8:50 a.m. 8 October 2005 looks at a turning point in modern Pakistani history, when a devastating earthquake swept through Islamabad to the valleys of Azad Kashmir.
She is a regular columnist for The Daily Beast, The New Statesman and other publications. About her famous family connections, Bhutto has said, "I don't believe in birth-right politics. I don't think, nor have I ever thought, that my name qualifies me for anything".
In Songs of Blood and Sword, soon to be released, Bhutto gives an account of her famous family and the tumultuous events that have befallen it, including the murder of her own father from – she believes - within its ranks.
Tickets for the talk or for the talk and dinner are available at No. 61, Ward Place, Colombo 07 (10 a.m. - 4 p.m. Monday - Friday) or from Park Street Mews, 50/1 Park Street, Colombo 2 (during restaurant opening hours). For further information call 011 2691056 or email info@galleliteraryfestival.com.
Proceeds from the evening will go towards the Galle Literary Festival's outreach programme, promoting creative reading and writing in schools in the Southern Province.
Visit www.galleliteraryfestival.com for more information on the Galle Literary Festival.