Herathhamige Swarnalatha remembers only feeling faintish and having blurred vision. When she woke up she was in hospital, her left side paralyzed and her left leg amputated."I was at my duty point which was in a school," says 47-year-old Swarnalatha from Oushadapitiya, in Irrattaperiyakulam, Vavuniya, when she was felled by a stroke.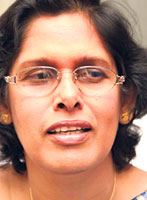 Dr. Padma Gunaratne
Yes, she was depressed when she woke up and found her leg gone, but that has changed now. "My friends at the duty point call and ask whether I am still alive, for on seeing me collapse they had thought that I would be no more."
Not only is Swarnalatha alive but she is also determined to go back to her home and resume duties as a member of the Civil Defence Force so that she could keep fending for her mother and herself. She had become a Home Guard 14 years ago, taking up a weapon, when her village was under threat from the Tigers, then been absorbed by the Civil Defence Force and after the war detailed to duty at the school.
Swarnalatha epitomizes how excellent coordination and team work not only between hospitals but also the Health Ministry and the Social Services and Social Welfare Ministry have given her the best chance in life, ensuring that though disabled she becomes independent and retains her quality of life.
When she collapsed and was rushed to the Vavuniya Hospital, they had initially attended to her and transferred her to the Anuradhapura Hospital where they diagnosed that not only had she had a stroke but that a clot had also gone into her leg. Later she was sent to the neurology ward at the National Hospital in Colombo where the neuro and vascular teams acted fast to help her regain life and hope.
Swarnalatha's depression has been dealt with through counselling by the Social Services and Social Welfare Ministry as also her disability by giving her a wheelchair.
"Her needs have been met because everyone worked in tandem," stresses Consultant Neurologist Dr. Padma Gunaratne commending all those who aided Swarnalatha's recovery and helped her back on her feet.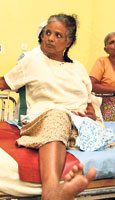 Swarnalatha:Determined to go back to work.
An all-round service, not only medical but also social, is what the National Stroke Association of Sri Lanka which celebrated World Stroke Day for the first time in the country last Thursday (October 29) has achieved.
Aptly, this year's World Stroke Day theme is: Strokes – what can I do? What can we do as individuals, groups or governments? "There is much that we can do," explains Dr. Gunaratne, who is Head of the Neurology Unit 1 of the NHSL, President of the National Stroke Association of Sri Lanka and representative on the Board of Directors of the World Stroke Organization.
Spreading the message on the prevention of strokes, caring for a stroke patient and also helping the care-giver of a stroke patient are vital, she says. The World Stroke Day commemoration event itself was an example of how the National Stroke Association of Sri Lanka acted as a conduit between the Ministries of Health and Social Services and Social Welfare.
Hoardings, sponsored by the WHO, have been put up within the city of Colombo to make people aware that strokes are not only preventable but also treatable. They are at Lipton's Circus in Sinhala, Horton Place in English and Elphinstone in Tamil.
Another major achievement of the National Stroke Association of Sri Lanka is making medical professionals aware that stroke care and rehabilitation do not end after the hospital stint but that the patients have social benefits they can access through the Ministry of Social Services and Social Welfare.
"We are giving out the message to doctors that these patients need to be referred to the Divisional Secretariats closest to their homes so that they can seek social benefits to resume their lives," says Dr. Gunaratne, adding that 50% of patients are left with a disability after a stroke. A booklet on such social benefits is now being distributed among medical professionals.
Putting words into action, 10 stroke patients including Swarnalatha received social benefits of different forms last Thursday. Six got re-employment benefits, one a housing benefit of Rs. 10,000 and three including Swarnalatha wheelchairs to give them mobility.
The biggest achievement for the National Stroke Association of Sri Lanka, however, is the decision by the Ministry of Social Services and Social Welfare to appoint four counsellors and four social workers to four main hospitals in Colombo.
Then stroke patients will be able to get all-round care including social benefits under one roof.
10 key points in National Stroke Strategy
The National Stroke Association of Sri Lanka has recommended 10 key points in its National Stroke Strategy:
Awareness that although stroke is a catastrophe, it is preventable and also treatable
Prevention of stroke by control of vascular risk factors (see graphic)
Acting on the warnings, especially transient ischaemic attacks (TIAs)
Expanding facilities for "imaging of the brain" by CT scans to make the diagnosis of stroke more specific
Having dedicated stroke units with multidisciplinary care so that stroke patients have short-term rehabilitation to reduce post-stroke complications
Establishment of dedicated rehabilitation hospitals, one in every district, for long-term rehabilitation of stroke victims
Dedicated social workers and counsellors to be part of the multidisciplinary stroke-care team
To implement and strengthen the already existing community-based rehabilitation for stroke victims
Introduction of clot-busting treatment in stroke care, now available at the Neurology Unit, to the Kandy, Galle and Jaffna Teaching Hospitals
Promotion of research on strokes in Sri Lanka