Maliban Milk Products [Private] Ltd. gratefully acknowledges the trust and confidence of their consumers who continue to count on the company's high quality milk products, customer friendly packaging, affordable price as well as the company's projects of social responsibility. Maliban Milk Products reiterate that without the loyalty and the emotional involvement of their consumers the company's present successes, achievements and contributions made to the economy and society would not have been a reality. Maliban Milk also applauds the courage, commitment and conviction confirmed by their consumers for having stood by a local entrepreneur Vis a Vis multinationals.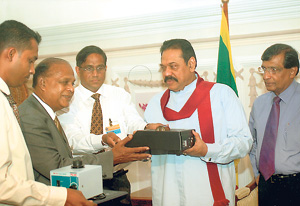 From Left to Right Mr. A.G. Wimalasiri, Senior Director, Mr. Lakshman Weerasuriya, Group CEO and Mr. Ariyasiri Withanage, Marketing Consultant handing over the only melamine checking machine in Sri Lanka to his Excellency the President Mr. Mahinda Rajapaska
Maliban today is the dream of a visionary who started this organization over 06 decades ago. The biscuit industry that he started, now caters to a major part of the entire world, amassing a huge revenue for Sri Lanka. Maliban Milk Products too contributes an equally big share with relatively a small number of staff, expenditure and dedication. The Maliban Group of companies is a multi billion business establishment today thanks to the farsighted vision, the right decisions and the untiring efforts of a true leader
The continued success of Maliban Group lies in the hands of the current Chairman Mr. Rathnapala Samaraweera ,the Board of Directors and the CEO who continue to live up to the long standing traditions of the company whilst following the foot steps of the founder who is also the groups role model. The Sunday Times met Mr. Nalinda Jayamanne, Head of Sales and Marketing for Maliban Milk Products to find out more about their Maliban Milk range of products.
Portfolio of Brands
"The introduction of a Full Cream Milk Powder [FCMP] branded as Maliban Milk; took place over a decade ago. This new venture was embarked upon with mixed feelings of enthusiasm, pride and prejudice etc. Nevertheless, it was a serious and gigantic decision and a colossal step taken with regards to the future of the Maliban Group which now keeps receiving the true rewards of merit for its actions. The shelf packs of Maliban Milk were the only SKUs available for almost a decade. Until five months ago, there was only one brand available - Maliban Full Cream Milk. But now, the scenario is different, where 2 brands of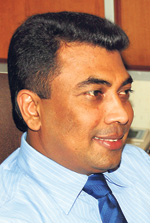 Mr. Nalinda Jayamanne, Head of Sales and Marketing for Maliban Milk Products
FCMP [ Maliban and Puredale ] , A Junior Brand [ Maliban Kiri 1+ ], 02 brands of non fat [ Maliban Slender Non Fat Milk Powder and Hy - cal non Fat Milk Powder], 02 brands of High Calcium products [ Hy - cal FCMP and Hy - cal Non fat.] and a specialized formula of nutrition and energy [ Vitagen Vanilla.]are available. Together they make a drop down Price List of over 15 SKUs [Store Keeping Unit].
Over 40,000 outlets in the general trade, all supermarket chains in the modern trade, virtually all star class hotels in the country and numerous other institutions including hospitals; stock, distribute, sell, promote and consume or serve Maliban brands of milk all the time.
A 100% pure cow's milk and the best of quality is the promise by Maliban Kiri to all their loyal clients. Quality standards such as SLS, HACCP, Halal are a standard fitting at Maliban Milk. A comprehensive team of Quality Assurance headed by highly qualified and experienced professionals in food technology; ensure the best quality ever in Sri Lanka", says Mr. Jayamanne.
The first ever 700% volume increase in the FMCG Market
After nine long years of presence in the FCMP market, Maliban Milk was not able to make a successful headway but remained a mediocre brand in the seventh position behind so many dominant brands marketed by multinational companies. However later on a change of management finally occurred and everything else started turning around thereafter. Multinational companies as well as big local players in the industry were largely engaged in a war of promotional campaigning via audio, visual, print media and poster campaigns alike where display competitions and rewards were an everyday affair. Maliban Milk however did not wish to join the band wagon.
A Paradigm Shift was however inevitable. Maliban Milk decided to keep to a very special agenda of their own. Instead of going after the competitors; Maliban Milk started to go after the consumer. The focus was on how best the consumer can be serviced. No attempts were made on taking the competitor head on. In the beginning Maliban Milk was not even considered by the big players as a potential threat to their rankings in the market. Maliban Milk adhered to basic principles of marketing and selling; understanding their own capabilities and finding avenues to remain competitive within the parameters.
Maliban Milk strongly adhered to its main business principle of offering the best product in every category at an affordable price to the consumer, which also included the best quality from Murray Goulburn, Australia with the highest quality standards of Australia as well as that of Sri Lanka. [ i.e. SLS, HACCP, Halal.]
"Maliban Milk always maintained consistency in correcting the basics. It was then that the wheel started turning at a much faster pace bringing in a record 700% increase in sales. Maliban Milk Products have stepped out of traditional limitations of business and trading with a view to understand the truly local consumers with a great deal of empathy. In this endeavor, Maliban have offered their consumers numerous added advantages that they would appreciate. Amnesty to cows from butchery is a special project of corporate social responsibility. The appreciations received from the consumers have been immense particularly towards this amnesty program called "Abhayadana" ", further stated Mr. Jayamanne.
As Maliban Kiri kept on increasing sales in every direction, there also came the vehement request to produce a special formula for kids of the growing age. Maliban did accept the challenging request made from their loyal consumers and in response ventured into the formulation and production of the latest brand from Maliban Milk Products - Maliban Kiri 1+
Maliban Kiri 1+ is yet another revolutionary brand introduced to the Sri Lankan Market of full cream milk products from Maliban Milk Products [Pvt.] Ltd.; Maliban Kiri 1+ offers a versatile brand of nutrition for the children of the age group of 1 - 3 years. Just like the other brands of Maliban Milk; i.e. Maliban Milk, Puredale, Vitagen etc., the main supplies of Maliban Kiri 1+ too is brought only from Murray Goulburn, Australia with the Guarantee of High Quality. Maliban Kiri 1+ is designed to provide growing kids with important nutrients essential for steady physical growth and brain development. Maliban Kiri 1+ is enriched with vitamins , minerals and fortified with Pre - Biotics.