Peering through his microscope, Clinical Embryologist Dr. Madara Ralpanawe, carefully examines four embryos. He must hurry - the tiny cell clusters cannot survive for long outside an incubator, within whose roomy interiors the conditions inside a woman's fallopian tubes, from body temperature to CO2 levels, are perfectly replicated.
Dr. Ralpanawe, who is among the first Sri Lankan doctors to have a postgraduate master's degree in clinical embryology, knows this is a particularly crucial time. The embryos will be implanted inside the mother's womb the next day, and only ones that display robust growth will make the cut.
Dr. Ralpanawe is part of the Apollo Fertility Clinic's team. Headed by two gynaecologists – Dr. Nishendra Karunaratne and Dr. Sudheera N. Uduwela – the clinic has just celebrated its first year of existence. With 110 successful IVF pregnancies and 10 babies born within this period, the team has established a reputation for successful In-Vitro Fertilization (IVF). Overcoming obstacles like endometriosis, distorted tubes, fibroids, they have even helped women who have lost both fallopian tubes as a result of ectopic pregnancy. Successful treatments also included cases with men whose sperm counts were below 1 million (average sperm count is usually 20 million per milliliter).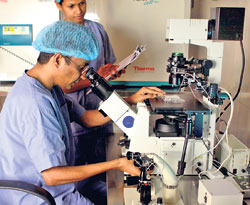 A high-tech operation
More and more couples are seeking the services of such centres, says Dr. Uduwela. As women put off marriage, late pregnancies become more common. A woman is most fertile between the ages of 18 – 25, but there's no reason you can't have a child later. First time patients can expect to undergo a thorough check up that includes medical history, a general check up and then a gynaecological examination, says Dr. Uduwela.
It is only then the doctors will decide on a course of treatment. Often patients might leave simply with advice on how to coordinate intercourse with the woman's menstrual cycle, so as to make the most of her most fertile period. Drugs designed to stimulate ovulation may also be prescribed. Throughout, the centre places emphasis on non-invasive and minimally invasive procedures.
"We start with simple measures," says Dr. Karunaratne, explaining that only after these have been explored will they consider IVF or ICSI. IVF is simply the bringing together of the sperm and the egg outside the body under tightly controlled laboratory conditions. The embryos are subsequently transferred into the uterus through the cervix. ICSI is short for Intracytoplasmic sperm injection says Dr. Karunaratne. This procedure is more tightly controlled and involves the direct microinjection of a single sperm into a single egg. The sperm is carefully chosen to ensure a healthy embryo.
The state-of-the-art facilities offered at the clinic include an IVF laboratory, freezing/storage facilities for embryos, ultrasound facility, operating suite for egg collection, private sperm collection rooms, private consultation rooms and a counselling room. Interestingly, while the hospital paid an impressive Rs. 30 million for their new facilities, Dr. Ralpanawe says affordability for patients has been a primary concern. While costs for the procedure begin at Rs. 150,000, the hospital has arranged matters so that payments can be made in instalments. The procedures cover Natural cycle IVF, Intermediate IVF cycle and Controlled Ovarian Hyper- stimulation IVF cycle – with prices ranging to suit patients according to their clinical condition and the procedure adopted.
| | |
| --- | --- |
| | |
| Dr. Sudheera Uduwela | Dr. Madara Ralpanawe |
For those not resident in Colombo, spending several weeks in the city undergoing treatment might exceedingly difficult to coordinate. To avoid this problem, the team will contact the patient's family doctor, providing them with the injections needed to be administered and information on the particular case - thus enabling the patients to receive the treatment in their hometown – which will also reduce the cost of travel involved in the process.
"They can stay in surroundings familiar to them and obtain the same services," says Dr. Ralpanawe, explaining that the patients need only come into town for crucial consultations. After having undergone an IVF process, most patients can expect a normal pregnancy culminating in the birth of a healthy baby.
The centre saw its first baby born in May, followed with twins in June. September marked the birth of the first baby girl, with several more mothers expecting to deliver in subsequent months. Today, it's hard to imagine a baby simply by looking at the cluster of 4 cells in a petri dish, but for Dr. Ralpanawe and the rest of the team, assisting this natural wonder on its way is the best kind of job there is.