Nearly 300,000 people were uprooted and displaced from the conflict zone and four months after the government officially announced the defeat of the LTTE, more than 280,000 persons are held in closed camps in one of the most serious human rights crises in 21st century Asia.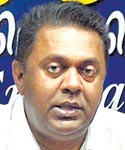 Mangala Samaraweera
The only crime these unfortunate persons have committed is to have been born in an area, which was under LTTE control for nearly two decades. Previously, they suffered under the brutal and tyrannical rule of the Tigers and today they continue to suffer untold hardships and humiliations under their own government which promised them 'liberation' after the LTTE was defeated.
There are also allegations that 30-40 people disappear daily from these camps and according to District Secretary of Killinochchi, more than 10,000 people have gone missing since these camps were established.
"Let us go home." That is their only request at the moment. The President must recognize the right to return of the people and the people must be allowed to go to their original place or the place of their choice. The resettlement must start immediately and it must be done under the supervision of an all-party committee of Parliament.
In response the government says that they cannot be allowed to do so until the areas are cleared of land mines. Of course, many respond by saying that they have been living with land mines for many years but if the presence of civilians can obstruct the de mining operations, most people have relatives, with whom they could live with until the areas are cleared.