Those in the top echelons of the Police scoffed at an "exclusive" news report in a website, now banned in Sri Lanka. The story, if true, would have made newspaper headlines and found prime time slots in the electronic media not only in Sri Lanka but also the world over.
It said Opposition UNP leader Ranil Wickremesinghe and his ally SLFP (Mahajana Wing) leader Mangala Samaraweera were to be arrested. They are widely known to be the two opposition politicians accused by a Government Minister of being behind an international conspiracy to "destabilise Sri Lanka.
A Wickremesinghe aide pooh-poohed the accusations. Mr. Samaraweera declared, "Why should I wear their hat?" when asked whether he was one of the two. The accusation came from Minister Dallas Allahaperuma at a news conference.
However, donning a dapper dark suit on Wednesday night, Mr. Samaraweera, after all wore "the hat" too.
At a farewell party hosted by India's outgoing High Commissioner Alok Prasad, Mr. Samaraweera looked at his host and remarked, "Don't you want a photograph with the chief conspirator?" The envoy burst into laughter but readily obliged.
Mr. Samaraweera was in good spirits and the light-hearted banter continued until he spoke about the last "one for the road." In between, another one-liner from him kept many guessing.
The conversation was on Lauren Weisberger's best selling novel (and now a film) titled "Devil Wears Prada." "No! No!! This devil wears maroon," exhorted Mr. Samaraweera. Mr. Wickremesinghe, said to be the second politician, and former President, Chandrika Bandaranaike Kumaratunga were both notable absentees.
Kumaratunga was in better company, at the Clinton Initiative, taking part in an event in New York where President Barrack Obama spoke. As member of the former US President Bill Clinton's club, she spends more time abroad than in Sri Lanka.
Outbound from Dubai to New York, she was also in better company. Taking the same Airbus A-380, the biggest jumbo aircraft in the air, were Foreign Minister Rohita Bogollagama and Defence Secretary Gotabhaya Rajapaksa.
Bruno also had his day
It is Mr. Samaraweera again. This time we go to a party he hosted some weeks ago. The talking point, as in most parties those days, was about the victories achieved by the troops in their battle against Tiger guerrillas. The talk came to one of the top men in uniform.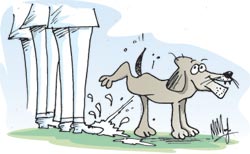 Mr. Samaraweera told a friend it was he who placed this top man on the highway to success. Of course, that was when Chandrika Bandaranaike Kumaratunga was President and he was not only Cabinet Minister but also a close confidant.
"However, there was an embarrassing moment that I can never forget," Mr. Samaraweera confessed to his friend. He said, "I set eyes on this man for the first time when I was hosting a party at home one night. A good friend brought him along unannounced."
"Like a good sailor, he stood almost to attention as he chatted with me. Then, Bruno spoilt it all. Wagging his tail, he came close to him, raised, his leg and began p…..g." The bottom part of the crispy white trouser turned yellow and I didn't know what to say."
He said he apologised profusely. Well, pet dogs do not behave well sometimes. Yet, the favour sought by the top man was done, noted Mr. Samaraweera.
Pray and pay later
The fledgling one aircraft airline, Mihinair, has found a novel way to keep its depleting coffers filled by launching a fly-now-and-pay-later scheme for police officers, State Officers and next of kin.
According to a five-page circular sent out by Police Headquarters, anyone from a constable to a gazetted officer is entitled to the scheme to go on pilgrimages to India.
Of course, they have to do a lot of travelling before they avail themselves of this opportunity. First, it is to obtain approval from their superiors. Then, to swear an affidavit that they would pay the airfare in monthly instalments. The circular says even state officers and two close relatives are entitled to this deal to fly, pray and pay later.
Russians are coming
There are glad tidings from Russia for Sri Lanka's tourism industry. The Moscow police recently carried out a survey of tourist destinations for holiday travel. Resorts in the south, reports from Moscow say, were found to be the cheapest.
Come December, and Moscow cops would be saying "nastrovi" with their Vodka in Sri Lankas south. Charter airlines in West Asia are to fly them in.
Military spy chief in Horn of Africa
The latest serving Army officer to join Sri Lanka's diplomatic service is Major General Amal Karunasekera, Director General of Military Operations. He is to be posted as the Charge d' Affaires in the new Sri Lanka mission to be opened in Eritrea. The country is located in the Horn of Africa surrounded by Sudan, Ethiopia and Djibouti.
Tiger guerrillas for weapons transfers to Sri Lanka had used the Red Sea coastline bordering Eritrea as well as some locations in the country, reports say.
Maj. Gen. Karunasekera, who played a key role in the military campaign against Tiger guerrillas, has already made a visit to the Eritrean capital of Asmara to explore locations for setting up Sri Lanka's diplomatic mission.
Mind your foreign names
When the United National Front (UNF), of which the UNP was the predominant partner, was formed, leader Ranil Wickremesinghe, arranged for seminars at a hotel in the south to teach their Parliamentarians social niceties. That included the use of the fork and spoon.
It now appears that he may have to arrange for seminars to teach foreign affairs, particularly the use of foreign names. That the Ministry of Foreign Affairs has come under severe stricture from Government leaders is bad enough. There are those in the opposition who are showing they are no better.
Not so long ago, one of them referred to a Malbrock in Britain. His colleagues asked, perhaps jokingly whether this was a reference to a family that owned the Marlboro cigarette empire. It turned out that there was no family by that name and the reference was to Lord Mallock Brown.
Then there were repeated references to Pratap. Did it by any chance centre on late Indira Gandhi's pet dog? Or was it the name the late President Premadasa gave an elephant? No, they were not. It was a reference to Pranab Mukjerjee, then Indian Foreign Minister and now Minister of Finance.
There was another one last week. It was about Sarkosky but he was no descendant or relative of Pytor Ilyich Tchaikosky, the well-known Russian composer. The reference was to French President Nicholas Sarkozy.
As one wag remarked, early tuition can not only help Sri Lanka but also avoid diplomatic disasters.
Four lorries for VIP lunch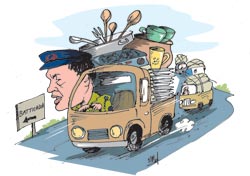 Police Chief Jayantha Wickremaratne, due to retire in November this year, played host at lunch for President Mahinda Rajapaksa and his entourage who were in the East last week.
The venue was the newly-built Police circuit bungalow overlooking the Vakarai lagoon in Batticloa.
Four lorries from the Police Transport Division at Narahenpita moved kitchen items including utensils from the Senior Officer's Mess at Bambalapitiya to Batticaloa for the event.
Bogols draws a blank
Foreign Minister Rohitha Bogollagama has been unable so far to secure a meeting with US Secretary of State Hilary Clinton on the sidelines of the UN General Assembly sessions currently in progress in New York, even though his Indian counterpart has had one, in which discussions on the situation in Sri Lanka had figured prominently.
Alas, the state of foreign relations. Meanwhile, Ministers G.L. Peiris and Milinda Moragoda have found an OGL (Open General Licence) for foreign travel, at least to Europe thanks to the President putting them on a team to tackle the GSP+ issue. Just this week, Parliament was told of the millions spent on Prof. Peiris' foreign jaunts which he claimed was all for the greater good of the nation. The duo, who once engaged in peace talks with the LTTE, also to no avail are tripping over each other asking Sri Lanka's ambassadors in Europe to secure high-level appointments for them.
Reports reaching Colombo say our ambassadors are unable to do so as for one thing, these issues are still at a technical phase in Brussels, and that so many Sri Lankan Ministers are trying to visit their capitals at about the same time to discuss the same issue is an exercise in futility. What is called for is a 'Game Plan' instead by the four Ministers acting as a team rather than individually.
On the other hand, these ambassadors and their staff are busy making their own ends meet, spending all their time writing appeals for redress from Government higher-ups on the fate that has befallen them with the recent pay and allowance cuts. The hardest hit are those serving in Europe.
There are some who are contemplating leaving the posts and have told the MFA (Ministry of Foreign Affairs) that any replacements would find it impossible to survive with the revised scales. In all cases, the drivers are getting more than mid-level DPL staff and translators/Interpreters (nationals of those countries) are drawing almost the same as what the ambassadors are getting!
Gaddafi's Lanka lies
Sri Lanka was unwittingly dragged into a raging controversy in New York last week over Libyan leader Muammar el Gaddafi's maiden visit to the United Nations. The flamboyant military dictator routinely pitches his Bedouin tent whenever he visits a foreign country -- as he did last month in a public park in Rome during his official visit to Italy.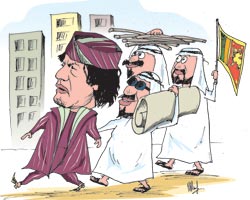 Unlike Italy, there is no love lost between Gaddafi and the US because of Libya's alleged involvement in the downing of a Pam Am jet over Lockerbie, Scotland, in which some 220 Americans died more than a decade ago. So, when Gaddafi wanted to put up a tent in New York's Central Park, the city said no. The Libyans then tried the neighbouring state of New Jersey only to be rebuffed there too.
And according to the New York Daily News, Gaddafi's aides then tried a ploy to pose off as Sri Lankan diplomats trying to rent an expensive mansion in an exclusive neighbourhood in the suburbs of New York City. The tent was expected to be erected in the backyard of the mansion whose six-day lease was priced at $60,000. The oil-rich Libyans had no problem in coughing out the money.
But when the real estate agent and his lawyer were about to finalize the lease agreement, they discovered the diplomats were not from Sri Lanka but Libyans masquerading as Sri Lankans. Needless to say, the whole deal was off -- and Gaddafi and his entourage had to stay in a building owned by the Libyans in New York, which also houses its mission to the UN. But it had no backyard either for a tent or a barbecue grill.
China in a bull shop
On Friday on US television's late night comedy show, the following comment was heard:
Yesterday, President Obama welcomed the members of the UN General Assembly to New York and he said, "I'd like to encourage you to do some shopping while you're here."
And I think it worked, because China immediately bought 8 banks, two car companies, and the state of Wyoming.