It's easy enough to understand - from job interviews to making conversation with strangers at parties, we're likely to feel more confident if we know we're looking our best. This week MediScene speaks with consultant dermatologist Dr. D.N. Athukorala about acne and the best way to cope with this common condition.
The scars acne leaves can be both physical and psychological, explains Dr. Athukorala. Studies have shown that some people with severe acne struggle with insecurity, so much so that it adversely impacts the quality of their interactions with society at large.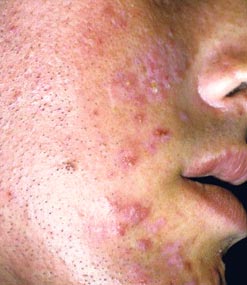 Courtesy Getty Images
Acne is characterised by the appearance of pimples, most commonly on the face, chest, and upper back. Though it is most common in young people, acne has been known to afflict people well into their thirties.
There are many kinds of pimples. Comidones are among the most common manifestations. These can be either opened or closed. An open comidone tends to become black and so is also known as a blackhead. When covered by a thin sliver of skin, the head is white, hence a whitehead.
When the head of the pimple becomes raised, the pimple now goes by the name of a papule. Papules are red and raised and might be painful to touch. If the papule becomes filled with pus, it makes the transition into a pustule. Occasionally, no head appears, instead a closed sac known as a cyst is formed. It can be felt as a lump just under the skin. Further up the scale, large, hard swellings deep within the skin are called nodules.
Acne likes to leave its calling card, and often people are left with numerous marks on their faces. Sometimes these take the form of small patches of dark pigment. Doctors might also see what is known as an "ice-pick" scar, named after the little pitted holes that mountaineers make as they climb a smooth surface.
Acne appears as the result of an interaction of elements within the skin. Protecting the skin from infection is a thin layer of keratin. This is the upper part of the epidermis and is essentially dead skin. Where the hair follicle emerges onto the surface, this keratin forms little protective "horns". However, occasionally the keratin thickens and as it gets increasingly swollen it begins to block the opening of the pore.
Meanwhile, the sebaceous glands continue to work hard from their position just below the surface of the skin. Their task is to produce sebum, an oily secretion that helps to keep your skin moisturized and the tiny hair soft and flexible. In normal circumstances, the sebum would escape onto the surface of the skin through the pore, but the keratin plug ensures that it remains trapped.
Faced with an abundance of sebum propionibacterium acnes, bacteria already present in small numbers on the skin, begin to multiply. Inflammation follows as these bacteria fill the pore. Eventually a pimple forms.
It's worth noting here that the pimple is first caused by the blocking of the follicle, followed closely by the increased secretion of sebum. Young people are particularly vulnerable because puberty is associated with increased levels of testosterone which in turn is known to trigger overproduction of sebum. This male hormone is present both in women where it is produced by the ovaries, and in men where it is produced by the testes. This hormone triggers the stages described above, culminating in your embarrassingly red pimple.
Treatment of acne undertakes to produce an immediate improvement in appearance and simultaneously prevent permanent damage to the skin.
If your acne is severe, your doctor might take strong measures and recommend medication. Externally applied non-inflammatory peeling agents might be used to prevent the keratin from blocking pores.
Your doctor might prescribe drugs to normalise shedding into the pore, thereby preventing blockage.
Carefully chosen anti-bacterial drugs might be prescribed to contain the growth of propionibacteria, while anti-inflammatory drugs might also be prescribed. Depending on the case, a doctor might choose to prescribe something to control the hormonal balance.
Keep your skin clear
Before you visit your dermatologist a few simple measures might suffice to help you keep your skin clear.