Multi-talented Bhadraji Mahinda Jayatilaka who is well-known as a vocalist, musician, painter, poet, playwright and writer is getting ready for his major cinematic creation 'Wehi Dawasa' (Rainy Day) based on his own novel under the same title.
A joint production by Inter Act Art and Bhadraji Creative Art Center, the film marks the entrance of a talented team of stage players to the silver screen. They include M. Safeer who was famous for his extra-ordinary theatrical production and Udeni Alwis who play a key role as assistant director in the film.
| | |
| --- | --- |
| | |
| Bhadraji | Play wright M. Safeer |
The novel cast mostly experts from the stage includes Hemantha Prasad, Udeni Alwis, Prabha Sandaseeli, Sangeetha Thadani, Sanet Dikkumbura, Vishaka Jayaweera, Prasad Deshapiya, Nadeeka Tharangani, Inoka Sanjeewani, Jayatissa Athulasiri, Nalaka Jinendra, R. Wasanthan, R. Nesaraj, Amila Kalupahana, Mahinda Silva, Sangeetha Palliyaguruge, Chethana Nimanthi, Bibishana Coorey and Bhadraji himself.
In the technical crew Hemantha Prasad writes the screenplay and dialogue while veteran cinematographer Donald Karunaratne joins the crew with Nalaka Jinendra as art director for the film. Playwright M. Safeer is Production manger and costume designer.
Set in cool upcountry, 'Wehi Dawasa' revolves around poor Elisa and Theja who are planning to go to hospital to get medicine and a team of dramatists who had come from Colombo and planning to successfully complete their final show. In the meantime, the wife of the Chief Medical Officer in the hospital who is invited as the chief guest is busy getting ready to meet her dream heartthrob who happens to be main star in the drama. But nature changes their pre plans.
"This is going to be a film that with an artistic flavour something like what Satyajit Ray has done," Bhadraji said when asked about his film.
"The film has songs even raps but they won't be songs accompanied by dances around trees," he added. The entire film is to be shot in Nuwara Eliya starting from October 1.
Bhadraji : A man of many talents
Residing in California, USA, Bhadraji Mahinda Jayatilaka is an all round artiste who had excelled a large number medium of arts.
As a writer he comments on various subjects, Buddhism, philosophy, novels, children's stories and even books on research in addition to making translations. Last week he was awarded Best Novel prize for his 'Dineka Kusinarawe' (A Day in Kusinara) by All Ceylon Buddhist Congress at the BMICH and he was also honoured by the Ven. Prelates of Malwatta and Asgiri Chapters for his service to Buddhist literature. Bhadraji is also releasing six of his books at this year's International Book Fair at BMICH. As a singer his evergreen hit 'Battittho' is loved by people all ages over several decades and there are nearly 200 songs to his credit.
Bhadraji spoke to the TV Times about his journey as a multi talented artiste and the newest filmmaker to the Sri Lankan cinema.
TVT: Where have all these talents come from?
Bhadraji: I suppose genes. My father was a painter and I have inherited a lot from him. But there are talents that I have developed over the years. I used to write even at the age of three and my mother used to say that the first things I would do on returning from school were writing and translation. Even today when I come across an interesting book I want to translate.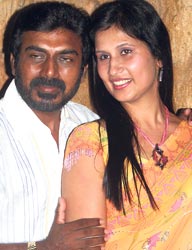 Actors Udeni Alwis and Sangeetha Thadani
Not only me, even my brother Lakshman Jayatilake too had these talents and he encouraged me a lot by providing me books and paints when I was young. But he pursued in a different field as an engineer.
TVT: Where did you make your entry to the audio visual medium?
Having obtained a Masters in Cinematography & Television Production from Columbia College (1975-1978) in California I was one of the first to join ITN as a consultant. Thereafter I also joined Rupavahini and directed a number of tele plays and later joined cinema. My last film a two-hour long production 'Yale Devi' was screened at the New York Film Festival this year.
TVT: Tell us about the film 'Rainy Day'?
Bhadraji: It is based on my novel I wrote years ago and it has now gone to its third print. I wrote it following one accidental incident I came across on my way upcountry. At one point when we were overtaking another vehicle I was between two different sets of people.
In one side was a joyous drama team going to perform their show and on the other side was a group of poor women breaking stone. I was just frozen between these to extreme situations and created a storyline where the two sets of people come together and become one.
TVT: What have you to say abut the new team you have got?
Bhadraji: What is most important to me is this group which encourages me and backsme to complete this project. They have become so dear to me and we are like one family.
TVT: Having excelled in so many fields of art, what would you like your fans to call you?
Bhadraji: Just a human being. Whatever creations I do are not for me. They belong to the people. I am not their owners anymore.