It's said that journalism, is in fact history on the run. For those who enjoy being ahead of the race and love the drive and the thrill of being in the loop, it's a career which provides a gamut of opportunities.
The Sri Lanka College of Journalism (SLCJ) offers budding journalists a year long flagship course which gives a comprehensive and complete tactical training to all students. Their curriculum includes a variety of wide-ranging topics such as investigative writing, parliament reporting, the role of a journalist in democracy, international trends in journalism, crime reporting and the art of interviewing, among others.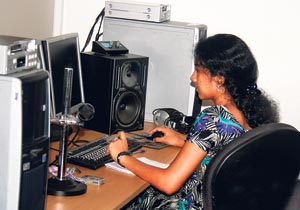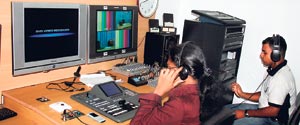 In the first semester, students are prepared with the basics of journalism and a combined education of all aspects of journalism, from print to electronic. In the second semester they are skilfully deviated into their chosen area of journalism and provided with theoretical knowledge and skills required to excel in their fields. In this manner, the students receive a combined knowledge of everything there is to know about their field, preparing them to deal with any situation if the need arises.
The third semester works towards producing multi-skilled professional journalists. "Print students are trained in news reporting, feature writing, editing and sub editing. They are also taught newspaper layout, design techniques on the Quark Express platform and additional lessons such as photography. By the end of the course, students are equipped with the necessary knowledge to be fully competent journalists," says past pupil and winner of the print media 'Best Student' award at the 2007 Journalism Awards, Himal Kotelawala.
Propping students on their feet and providing them with the raw experience of real journalism, they are sent out into the city in search of their own stories. "During these assignments not only do we learn how to use the camera equipment, learn news presenting and gain voice training but we also learn how to deal with people. So when I first joined a media organisation I was already skilled in the elements that can't be learnt off a text book," says a past pupil of the electronic media stream.
To carry out these assignments the students are equipped with all the required amenities enabling them with practical training in the latest technology. Immediate access is also available to a well-equipped resource centre and library.
Besides training aspiring journalists, the college also conducts mid-career training courses for those already in the field. These regular one week course are thematic and focus on improving specific skills or increasing media awareness of issues. The mid-career training programmes are held outside Colombo as well, as provincial workshops for correspondents of local and international media organisations. Both types of courses are conducted by a dedicated and highly experienced team of full time lecturers. Media professionals and experts in particular fields of journalism are also invited to lecture on their relevant fields.
"The course is extremely useful. You get a lot of experience, and a complete journalistic training," explains Roshani Senthiselvam, a student in the Tamil print media stream hailing from Jaffna.
Applications for the new batch will be open soon and the minimum requirements to join the SLCJ are 3 passes at A/L's, and the age limit is 18-25. Prospective students are required to sit for an entrance exam and will face an interview.
They are also expected to be fluent in their language of choice. Those interested in following the course or who need any related information, could contact the SLCJ on 5353635, or email them at info@slpi.lk.