Institute of Vocational Studies (Pvt) Ltd. of Dalugama, Kelaniya was formed to fill the aspirations of youngsters willing to study abroad.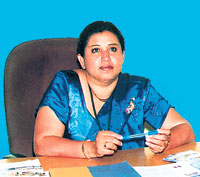 IVS sends youngsters to Bangladesh, India, UK and Singapore giving opportunities to study Medicine, Engineering (Computer, Electronics, Mechanical, Telecommunication), Chemical, Business Management, Accounts, Hotel Management, English Language, Literature and Social Science etc.
The speciality of this institution is that its charges are relatively lower than other such institutions.
IVS gives the chance to study in Bangalore University, Rajiv Gandhi University (Affiliated PESIT Institute), NRI Institute - India, Sambhram University of Science and Technology -Bangladesh and Rayat London College affiliated to Wales University - UK, ERC College, Auston Institute, FTMS Global - Singapore .
Mrs. Vijitha Mallika Senanayake (Managing Director - IVS) is a Graduate (MSc) in Lumumba University - Russia.
Her experience as a student in a foreign university has greatly influenced her in starting her institute to give the same knowledge and education to Sri Lankan students too. "Our Institution assures to look after the needs and lodging conditions, their education facilities and their grievances (if there are any) until they come back to Sri Lanka completing their studies," said Mrs. Senanayake.
There are thousands of doctors, engineers, accountants and others who hold higher positions in Government and private sectors, among the past pupils of such universities, sent abroad by IVS for the last 15 years.
'According to our statistics we have sent 7000 students abroad to study in Universities. I am happy to mention that there are more than 500 Sri Lankan students sent by us, at present studying in University of Science & Technology, Chittagong, Bangladesh the only University in Bangladesh approved by Sri Lanka Medical Council, British Medical Council and WHO." She mentioned when discussing about the Sri Lankan student population.
For Further information : 77444500/4925640/5757276/2910323
E-mail: ivsltd@sltnet.lk
Website: www.ivstudies.com