A definite highlight of the Bata-The Sunday Times Schoolboy Cricketer show was when St. Patrick's College, Jaffna were adjudged the Best Team for the Northern Province. It was the icing on the cake for a fine season where they had won 10 matches out of 11 with one match ending in a draw.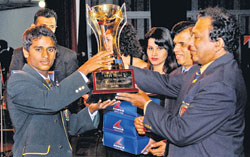 St. Patricks College Jaffna recieves the award for the Best Team Northern Province from Saman Amarasinghe, President ACUSL.
Even if this awards night is considered to be one of the more important events in the school cricket calendar, six boys from this year's team including their Captain were not present at the occasion as they were studying for their A' Level exams, a fine example of what should be the priority in student life.

Since their Captain was absent the boys appointed a spokesman in their Right Arm Fast Bowler Milando, a soft spoken young man who said that they need to thank their parents who always encouraged them to take part in sport and supported their every request even in turbulent times in the past and the coaches and teachers at St. Patrick's whose dedication to the institution and the betterment of the students were incomparable and of course Father Joseph, whose guidance and untiring efforts are reflected in the achievements of the school and it's students.

He went on to say that this year's team was a well gelled unit and even though the Big Match against Jaffna College ended in a draw, they managed to win the limited over game quite easily to cap off a fine season. He further stated: "We practice three hours a day, six days a week except match days. But the main problem we have when playing in Colombo is that we have no opportunity to practice on Turf Wickets as we play on matting at home. This plus the lack of quality opposition at home puts us on the back foot when we have to face the bigger schools from Colombo and Kandy."

When asked about next year's squad he said: "We hope to put up a better performance next year as we will have seven coloursmen in the team. I am sure you will see us again next year at this awards night."
The conviction in this youngman's eyes showed no cause to doubt him.