Conflict, controversy, intrigue and works of fiction it seems dominate the game of rugby in Sri Lanka. As we moved out of one problem of the under twenty selections it is the turn of the referees society. The pattern of conflicting situation is and has not been new in the game that is to be played with a spirit.

This has happened for the last couple of years and without it the game that keeps getting dull will not probably be remembered. At most times I have avoided writing on issues of referees other than mentioning it when it has been absolutely necessary. I wish to remain and keep it that way but need to mention that there is an issue that has come to the boiling point. In whose favor the bubble will burst will be seen as time goes on. The present position is that the controlling body has suspended the SLSRFR which has a history of over fifty years.

The other issue that keeps the game buzzing is the gossip that is converted into stories and published and or circulated on the many web sites reporting on rugby that have areas for comment . Some stories which would make fiction writers blush; bring disrepute to the game which at the end will only see the gradual death of a sport that has some cherished idols. Keep up the good things as writing on the game spreads and some make interesting reading. Then I suppose it is a habit that we love to weave a story on any incident and is not limited to rugby.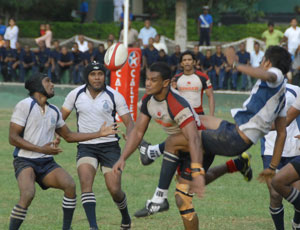 Action at the Navy-CR game. Navy has entered the race for the knock-out with a bang.
Meanwhile the league title it seems is on its annual one way trip to the hills. Kandy having just one more game to be played on Saturday has almost no way of losing the cup even if they were to be beaten by CR and FC. The annual pilgrimage will take its turn this year too for the cup to be handed over to Kandy Sports Club. As we close the curtains for the league what remains is for the knock out to close the club season 2009. Two horses who have dominated the game in the run for the last couple of years. This year as seen in the latter part a third, Navy Sports Club, has entered the race and come as strong contenders. Running on the outside with a remote chance of upsetting the party is the Army Sports Club. CH, Police and Havelocks who at one time were proud runners have fallen behind this season.

Peterson and Old Zahirians who at one time were knocking at the bottom of the A division are no longer in that league. The game though going through many changes see only the same few in front. The question that needs quick answers and a workable strategy is how best all the talent at schools level rugby can be used to improve participation in the future.

On the plus side is news that the Sri Lanka Rugby Football Union has got the green light from IRB as well as ARFU to host a seven a side Asian International Sevens in November. Having had no recognition nor release of funding for the Singer Sri Lankan Sevens which has a history of a decade the current position brings Sri Lanka to recognition in the sevens circuit. It was the Singer Sri Lankan Sevens that brought rugby playing Asian Countries to one sevens platform. Once again we have an additional opportunity for n Asian Seven. This also gives the green light for the promotion of the country as a rugby destination with no security concerns as in the past. The tournament organizers have invited all rugby playing countries in Asia which numbers twenty six. Participation is yet to be finalized and too early to say as to who will come. It is expected that participation will be limited to sixteen teams. There will also be a schools tournament which will attract twenty four teams as plans stand at present. Prior to this they hope to have a sevens tournament among schools and based on standing select the twenty four teams.

The Asian International Sevens will be held under the name "Carlton International Sevens". The Schools Sevens will be known as the "Carlton Schools Sevens". The tournament is organized by "Tharunyata Hetak" along with the Rugby Interim Committee and is scheduled to kick off on the 27th, 28th and 29th of November at the Sugathadasa Stadium, Colombo.

Vimal Perera is a former Rugby Referee, coach and Accredited Referees Evaluator IRB