Education
---
Middlesex University launches scholarship scheme for ICBT students
By: Kassapa Ellepola

Swapna Silva - Middlesex University Scholarship winner for the Masters Programme - 2009

The Prestigious Middlesex University of UK has stepped forward and announced a special scholarship scheme to ICBT Campus (International College of Business and Technology) students in Sri Lanka.

ICBT Campus is the partner institute in Sri Lanka for Middlesex University BSc (Hons) in Information Technology programme. The best student from the BSc (Hons) programme in Information Technology will annually be awarded a scholarship for Masters Studies in London at Middlesex University.

The brilliant Miss Swapna Silva who became batch top in the BSc IT programme was honoured by the Middlesex University, inviting her for her Masters at UK. The Scholarship to Miss Swapna Silva will be awarded formally by the Vice Chancellor of Middlesex University, UK at the ICBT Graduation Ceremony to be held on August 27, 2009 at the B.M.I.C.H. Miss. Silva with a future ambition of becoming an IT consultant said that it was a wonderful opportunity and a dream come true for her to get a head-long start in fulfilling her ambition. "ICBT offered me the exact course content I was looking for and its partnership with Middlesex and the international reputation didn't keep me hesitating to choose ICBT," she said.

She said the support she received from the academic staff was magnificent for the achievements she made and services for the students were also excellent at ICBT. "Reading for my Degree was definitely a challenge and was hard work, but ICBT staff was always there to help me and motivate me to achieve my desire," she said. She stressed that a part of the success in ICBT learning is the group work which allows students to share knowledge with other students and the study material which provides accessibility into new paths of knowledge.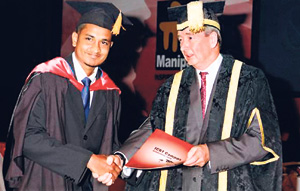 ICBT student graduating at BMICH


Miss. Silva is currently employed as a Senior Executive of Franklin Covey Ltd. "ICBT Campus programmes equip a student to be a competent and valuable asset to any employer due to the fact that the programme gives more weight to practical aspects through more assignments, case studies, presentations and group activities," she said adding that ICBT offers the quality of study that helps its students to stand up among the rest and possess the competitive edge over the others. She added that Middlesex University representatives who visit ICBT play a key role in assuring quality and up to date changes in the syllabuses.

Senior Manager of ICBT Mohamed Raashid Sudin said that Middlesex University has offered this scholarship worth Rs.2 million to motivate ICBT students to study better and recognize the success of the programme in Sri Lanka which includes credibility and quality of the delivery partner, the ICBT Campus and also to appreciate the quality of the students who have been achieving exceptional results.
"BTEC HNDs are the fastest pathway to a degree and students can complete their Degree programme in 2 ½ years at ICBT Campus. This is the most cost effective way to obtain a recognized UK Degree as an internal qualification just for one fifth of the cost when completed in UK," he said adding that the quality of the BSc (Hons) in IT programme is regularly cross checked by a special team from Middlesex University who reports and provides feedback to the University.

ICBT Campus is the leading private higher education provider of high quality undergraduate and postgraduate programmes in the country which works in association with some of the most reputed universities in countries such as UK, Australia, Sweden and India. ICBT Campuses located in Colombo, Matara and Kandy offer educational programmes ranging from diploma level to Doctoral level. ICBT Campus is an ISO 9001:2000 certified company which prides itself in providing higher educational services for a decade since its inception in 1999.


ICBT Student attending the Middlesex University- UK Graduation Ceremony


Middlesex University, a very high rated university in UK is one of the very few universities to have been awarded three 'Queen's Anniversary Prizes'. Located in London, the University has the best infrastructure facilities with a high quality delivery of higher education. The University also has a dedicated staff to support overseas students and Middlesex University is preferred by many overseas students from various parts of the world. At present there are more than 20,000 students studying in Middlesex University and Middlesex has many offshore offices worldwide.

Mr. Raashid said ICBT BTEC HND programmes are awarded by Edexcel UK, the leading examining body in the world and the qualification leads to internationally recognized Degrees. Middlesex University BSc (Hons) in Information Technology programme is offered as a top-up Degree for those students who study BTEC Edexcel Higher National Diploma (HND) in Computing in Sri Lanka and also for others who have completed studies up to two years in the relevant areas such as NCC, ACS,BCS, DNIIT or any equivalent qualifications. "ICBT Campus HND programmes have been awarded the "A Grade" By Edexcel UK for 4 consecutive years and this is the highest grade awarded by Edexcel for high quality delivery of HND programmes," he said adding that HND is a vocational qualification; whereas the final top-up degree is an academic qualification.

"Therefore, once the students complete the degree with ICBT, they get a vocational as well as an academic qualification. This will put the students in a definite advantage over the other degree programme students, who will only have an academic qualification," he said.
|
E-mail
|
views[

1

]