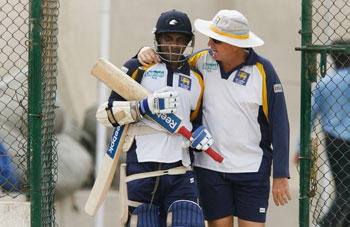 Karachi, PAKISTAN : Sri Lankan cricketer Sanath Jayasuriya (L) talks to one of the coaches during a training session in Karachi on June 28, 2008. AFP
It's dangerous to read too much into the first week of a tournament like the Asia Cup. However, we won both the games comprehensively and we achieved most of the objectives we set ourselves as a team. All in all, we are pretty satisfied and are now looking forward to the bigger challenges ahead, starting today with Pakistan.
The first two matches posed different challenges. Against Bangladesh, a side that is now very capable of springing a surprise, we wanted a really comprehensive performance. After what had been a long time since we had last played together as a team, our objective was to execute our gameplans precisely. We did that pretty well and it was the perfect start.
Against UAE, in what was a back-to-back game, the objective was to be as professional as possible. We wanted to turn-up, keep our focus and be ruthless. It was not easy playing immediately after the first game in what are gruelling conditions now the Pakistan summer is underway, but despite a few hiccups we got the job done.
The batting in the first game was impressive. We've stressed the need for building partnerships, one of our weaknesses in recent months, so it was pleasing that the top order did string together a couple of big stands. If we are being hyper-critical we could perhaps have scored more runs in the last 20 overs, but we still finished with a pretty formidable total.
One of the highlights of that innings was the batting of Sanath. He marked his return to the team with a belligerent innings and it was a delight to watch from the other end. He was very professional in his approach and was watchful early on. But once into his stride he was clinical in his destruction and very entertaining.
If you study the way he plays these days you can see slight differences. Yes, he's still aggressive. But I think he has become a bit more calculating and clever with his shot selection. He seems to have a very clear gameplan, targetting specific bowlers at specific moments. It's great to watch and learn. We are all hoping he can sustain this form and confidence right through the tournament.
It was a great shame that Kapu did not reach three figures. He played some beautiful strokes and looked really good. A century would have been great for two reasons: to give him confidence and also to just get that first one under the belt. When you make a hundred for the first time in international cricket it is a really important milestone.
In the field we were good overall, I thought. Vaasy was Vaasy: dependable, accurate, dangerous. Nuwan Kulasekera reconfirmed his growing stature with another energetic and lively display with the ball and in the field. Dilhara was a little bit rusty – as you'd expect considering his injury layoff – but was still promising. He just needs overs under his belt to get back his best rhythm.
Watching Murali and Ajantha in tandem was great to see – the wise old master and a young protégé. They are both unique bowlers with a little mystery. You need that. It will be fascinating to see how the combination develops. One great thing is that aside from both having variation, they are very accurate and cool-headed.
In the UAE game the innings was started well by the two Mahela's but then descending into fits and starts. Fortunately, Kaushalya Weeraratne and Nuwan Kulasekera were very professional in making sure we still finished with a big total. With the ball, after an expensive start, we came back well thanks to Dilshan's off-breaks and Ajantha mopping up the tail.
Having played two matches on the trot we were very happy to have a day off. The heat is around 45C and it is very draining. After about 10 to 15 minutes you feel like you have been in a sauna. Karachi and Lahore are large grounds, too, so there is lots of running between the wickets. You need to be careful and manage your fitness carefully so you stay fresh throughout the game.
We'd all have loved a lie-in after the UAE game but by 5am it was off to the airport for our flight to Karachi. It was worth it, though, as we got to go to the Castrol Asian Cricket Awards. Murali was the well-deserved Bowler of the Year and Farveez Maharoof was the ODI Bowler of the Year, which I thought was terrific recognition for one of the fastest-improving cricketers in the world.
Now the first week is behind us the serious work begins. The way that the runs are being piled up it may appear that this is going to be a battle of the batsmen with India, Pakistan and Sri Lanka all closely matched. But while the batsmen will have to deliver, I think the difference might be a special performance from the bowlers that changes the game, either early wickets or inroads at key stages. We'll have to wait and see.