Stanley paints a generous man in 'Diya Sithuwam'
Stanley Perera's latest creation 'Diya Sithuwam' paints a man with a golden heart is now being telecast every Saturday at 7.30 pm on Rupavahini. The teledrama portraying a man with rare generous characteristics stars Roshan Pilapitiya with costars Indika Upamali, Sanath Wimalasiri, Surangi Ruwanmalee, Murie Samarasinghe, Jude Anthony, Girlie Gunawardena, Samanthi Lanarolle, Keerthi Bandara and Stanley himself.
Scripted by Srilal Nanayakkara, the story revolves around Nimasha, a girl doing paintings around the beautiful surroundings around Kandy Lake when a university student falls in love with her.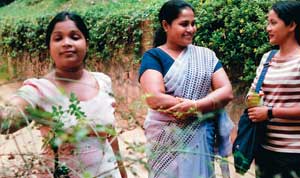 Nimasha and Ravindu's affair is blessed by Nimasha's only relative, her sister, a nun Sr. Lucy who lives in a convent in Bandarawela. One day when the young couple is on a visit to Bandarawela, Ravindu meets with an accident and he is unable to drive back to Kandy. He stays at one of his friends, Kolitha's house while Nimasha stays with her sister in the convent. Nimasha meet Ravindu who is getting treatment at Kolitha's home and having seen the beautiful girl who comes to visit Ravindu, Kolitha gets jealous of his friend. He in fact determines to win Nimasha's heart and waits for an opportunity to express his interest. When Ravindu gets well and returns to Kandy with an arrangement to meet Nimasha there, Kolitha comes to know it. Kolitha who waits on Nimasha's way tries to kidnap her and Nimasha in an attempt to escapes meet with an accident and is admitted to hospital.
Ravindu desperately waiting for his girlfriend comes to know that she has met with an accident and Kolitha was responsible for it. He starts a brawl with Kolitha who in turn decides to take revenge from him (Ravindu). Conspiring to avenge, Kolitha reveals a secret he knows about Ravindu to Nimasha's sister, Sr. Lucy. He discloses that Ravindu has fathered a child to a woman called Ama and he visits her and the child who are at an orphanage on every Poya day.
Sr. Lucy calls both Nimasha and Ravindu and questions him on what Kolitha has revealed. Ravindu become speechless and he leaves them in a sombre mood. Heart broken with Ravindu's reaction, Nimasha leaves with her sister. Ravindu who returns to his boarding gets addicted to drinking. In a final move, Nimasha gets permission from her sister to meet Ama and her child who is said to have fathered by him.
What will she find? Who is Ama and is Ravindu really her child's father? 'Diya Sithuwama' is to unravel an unexpected relationship.