New BOI agreements for software, jewellery and sea cargo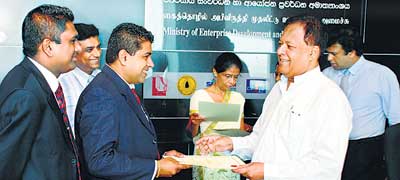 Picture shows Dr Sarath Amunugama formally handing over the BOI agreement document to Nayana Dehigama , Chairman /Managing Director of Epic Technologies (Pvt) Ltd and Viraj Mudalige, Director Epic Technologies Ltd.
The Board of Investment of Sri Lanka has signed agreements for five projects. Dhammika Perera, Chairman / Director General, signed the agreements on behalf of the BOI while Dr. Sarath Amunugama, Minister of Enterprise Development and Investment Promotion formally presented the investors with the BOI Certificate of Registrations, the state agency said.
The agreement signed with Epic Technologies is for a project to develop software and provide IT related services for foreign clients. The project is an initial investment of US $ 150,000 and will create 30 employment opportunities. The venture will focus in providing software solutions in four core areas -- Information Security, Electronic Payments, Mobile Enterprise Automation and E-Governance as the core areas.
Tanla Mobile South Asia has signed an agreement to develop software for the local telecommunication companies. The development team will comprise of local developers and is expected to commence commercial operations in one month. It is sponsored by B C Computers Limited.
Naturally Gems is a venture to cut and polish gem stones and manufacture jewellery for the export market. They have already commenced commercial operations and expects to export to US and Asian markets.
The agreement signed with Senok Maritime is for a project to provide international sea cargo operations services. Commercial operations are expected to commence in July, at an investment of US $ 2.2 million sponsored by the Senok Group. The agreement signed with Power House, is for a project for the expansion of television and radio stations.