Uva through the gaze of the female coloniser
The British legacy in Uva Province is besmirched due to the violent manner in which the colonisers crushed the 1818-19 uprising. A century after the event, with the scars mostly obscured to the colonisers, two British writers, both women, came to Uva within a decade of each other. They gazed upon its wonders and then described them in their remarkable guidebooks.
Given the paucity of female travellers in the late 19th and early 20th centuries it is not altogether surprising that very few female writers were exposed to Ceylon at the time. Whereas the mission of their numerous male counterparts was to promote the colony as a commercial proposition for pioneers and investors, or to amass information, the works of the females, generally being of the memoir or guide-type, were more personal and impressionistic. In addition, their descriptions often demonstrate they were more observant than the males.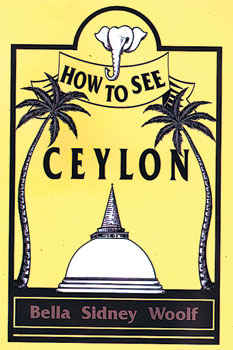 This article concerns two female writers, Bella Woolf and Clare Rettie, who were resident in Ceylon. Significantly, the verb see is central to the titles of their books – Woolf's being the almost modern-sounding How to See Ceylon (Colombo & London, 1914), and Rettie's more mundane Things Seen in Ceylon: The Description of a Beautiful Island and the Novel and Interesting Town & Country Life of its People (London, 1929). Woolf and Rettie - plus the earlier casual visitors, the painters and sometime writers Maria Graham (1812), Constance Gordon-Cumming (1892), and Marianne North (1892) - had the ability to see the island in a sensitised manner. Considering these accounts were written at the height of Empire, they are never offensive as the males sometimes are. The use of "coolie" and "native" may be disconcerting, but at least Rettie does the honour of bestowing the latter with a capital letter. In the end their words must speak for themselves.
"Dropping Plumb to the Centre of the Earth"
Woolf and Rettie followed the same route into Uva, a mountainous descent from the north-west, thus providing the chance to juxtapose their writings. Let's start with Rettie: "There is a delightful run, either by train or motor, from Nuwara Eliya to the charming little town of Badulla, in the province of Uva. . . . After Pattipola a tunnel is cut through the rock, and on emerging from it, there appears a wide stretch of bare rolling downs that extends for many miles, broken at long intervals by patches of trees. Beyond are range after range of hills, their summits nearly always concealed under a filmy veil of purple mist."
Woolf becomes fixated with the descent: "The distant mountains of Uva – Namunukula, a giant amongst them – and the ridge of Bandarawela and Haputale stand up sapphire-blue against the sky. The car swoops down into a vast rolling sea of hills, tawny red, dun brown, with here and there a fleck of dull green. The whole landscape shimmers and twinkles in the West. It is said to be a counterpart of the South African veldt. Small wonder that the Boer prisoners were so moved when this view burst upon them. (After the South Africa war, several thousand Boers were detained at Diyatalawa.) Past Baker's Farm, where Sir Samuel Baker conducted experiments in farming – the road runs below Hakgala till we reach Wilson's Bungalow – a small village, where market gardening is carried on successfully. One feels one is dropping plumb to the centre of the earth. Everything is parched and dried to heighten the illusion – the grass by the roadside is greyish-yellow like the dust – the orange lantana droops and languishes."
Rettie also mentions "golden brown lantana" but cautions, with a remarkable understanding of its invasive nature for her time, that it is "a flower which, though pretty, is becoming rather a curse in Ceylon, as it multiplies so quickly".
"On and on through the patana world (patana=an upland plain or slope of grassland), hummocky dun-coloured hills, with now and again a patch of paddy which marks the course of a small stream. Down and still down the road winds. Is it possible to drop further? Past the turn to Fort MacDonalds, hidden in a fold of the hills, on and on, till at last one is prisoned in a veritable hill-cauldron, a crater, a sinister spot – the uttermost depths.
"The road to Badulla is shaded by ingasaman trees, rubber plantations slope away to the valley below, and all the signs of the outskirts of a little town appear. We will probably meet one of the great lumbering motor lorries which are used for transporting estate produce in this district."
Badulla: "At the Base of a Noble Mountain"
Rettie describes the "little town" in some detail: "Badulla lies low, at the base of a noble mountain, Namunukula, with a broad river flowing near. In its streets, which are wide and shaded by graceful inga samen and other trees, are a good many Native shops. Some of them contain the different fruits which grow so well in this part of the Island – unusually large pineapples, guavas, grenadillas, rambutans, huge green jak fruit, etc. Others have a collection of strange vegetables: bandakai (bandakka=okra), brinjals, vivid red chillies, avocado pears, and insipid bread-fruit; or they may display ingredients for curry making; piles of snowy rice, coco-nuts, Bombay duck, popodums (pappadams=Indian wafer), and so on. There are odd looking cakes, too, called 'hoppers', made of coco-nut milk and rice flour; pottery of artistic shapes; tawdry jewellery – the medley of things always to be seen where Natives congregate.
"The bungalows in the little town are festooned with brilliant creepers of blue, magenta, crimson, and yellow – a mixture of colours that would jar in an English garden, but somehow seem all right in the brilliant sunshine of the East."
'The Merrie Men of Uva'
Woolf reveals: "Badulla is supposed to compete with Kandy in point of beauty. This we think few will allow. Badulla has its charms but they are milder than those of Kandy . . . There is a very attractive Club in Badulla – a compendium of Race Course, Golf, Tennis, Cricket and Croquet. Here the planters, who are known throughout the Island as the 'merrie men of Uva', live up to their reputation."
Rettie adds: "Many of them come from remote bungalows, which, even in these days of motors, must often be lonely, and few of the 'Sine Dorais' (literally 'Little Masters', used by Natives in addressing all young Europeans) can afford the luxury of a car. There is every excuse for them to make merry when they met, and they never, by any chance, miss the opportunity.
Badulla Oya
Woolf enthuses: "From the Kachcheri hill a very fine view can be obtained of the surrounding hills. The river – the Badulla Oya – almost circles the town, and its winding course, tree-shaded, can be traced. The peak of Namunukula dominates the town. At sunset the little lake on the race course glows like a pink jewel and a rosy afterglow lingers on the hills."
Rettie adds: "In the river Natives can usually be seen, standing in the water and pouring it from chatties, or pots, over their heads – their method of bathing; or just sitting about sumah, an expressive Tamil word often used by Europeans. It means doing nothing in particular, except existing, in fact – no more and no less!
'Beef Box' Coolies
"Occasionally, in going along a cart-road, one or two tame elephants may be seen moving solemnly along, their drivers addressing them in a peculiar wheedling tone, almost as if talking to children. On the narrow, step roads that lead to bungalows on tea estates, coolies may be carrying a chair, strapped on two poles, on their shoulders. In it some European lady, too timid to ride, and unable to manage the climb on foot, is seated. She is being conveyed out to tea or tiffin" (tiffin=a light midday meal).
"On certain days a string of coolies, carrying battered tin boxes on their heads, may be observed, wending its way to the different estates. They are full of importance, and so they ought to be for are they not 'Beef Box' coolies, entrusted with the rather tough beef, goat masquerading as mutton, minute eggs, etc., on which their august Dorais are to be fed?"
Further reading: The Gaze of the Colonizer. British Views on Local Women in 19th Century Sri Lanka by Elizabeth J Harris (Colombo, 1994) With thanks to Ms Harris for the source of this article's title.
Writing an Inheritance. Women's Writing in Sri Lanka 1860 - 1948 Vol.1 Edited by Neloufer de Mel & Minoli Samarakkody (Colombo, 2002)