Bush to meet Abbas at Egypt's 'Davos'
CAIRO, Saturday (AFP) - US President George W. Bush flies to Egypt today where he will meet Palestinian president Mahmud Abbas and address the World Economic Forum on the Middle East. Arriving in the Red Sea resort of Sharm el-Sheikh via oil powerhouse Saudi Arabia at the end of a regional tour, Bush will also meet Egypt's President Hosni Mubarak and Jordan's King Abdullah II at the capitalist networking jamboree.
The WEF meeting, dubbed the Davos of the Middle East, will bring together 1,500 people, including heads of state, business leaders and ministers from 55 countries, under the theme "learning from the future."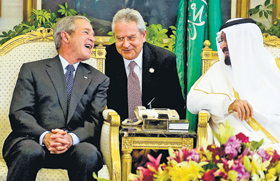 US President George W. Bush (L) laughs during a meeting with Saudi King Abdullah bin Abdul Aziz al-Saud (R) at an arrival ceremony at Riyadh's King Khaled International Airport on May 16, 2008. Bush arrived in Saudi Arabia from Israel today for talks with the world's biggest crude exporter on record oil prices that have hit Western consumers hard. AFP
But the region's future is as uncertain as ever, with the Israel-Palestinian conflict increasingly intractable, Lebanon rocked by eight days of sectarian bloodshed and Egypt seeing a wave of social unrest over skyrocketing prices.
Bush's regional tour, his second since January, comes in the wake of last year's Annapolis conference aimed at restarting the stalled Middle East peace process, but hopes of a deal by the end of his term in January are dwindling. Israel's Prime Minister Ehud Olmert had been mooted to attend, but with little Middle East peace progress to justify a three-way summit, Foreign Minister Tzipi Livni and President Shimon Peres will be leading the Israeli delegation.
After meeting Israeli leaders during celebrations of Israel's 60th anniversary, Bush picks up negotiations with the Palestinians on Saturday with talks and a dinner with Abbas. On Sunday, Bush is due to meet with Palestinian prime minister Salam Fayad.The Middle East peace process will also likely come up in Bush's talks with Mubarak on Saturday as Egypt acts as the interlocutor between Israel and Hamas, the Palestinian Islamist movement which took over the Gaza Strip last June.
The Israeli-Palestinian peace process may also feature in Bush's talks with Jordan's Abdullah II on Sunday. Bush will discuss his ongoing "war on terror" with leaders of two of the countries on the front line, meeting Afghan President Hamid Karzai on Saturday and Iraqi Deputy Prime Minister Barham Ahmed Saleh on Sunday.
And he is expected to raise US concerns over the new Pakistani government's more conciliatory line towards the Taliban and extremists in a meeting with Pakistani Prime Minister Yousaf Raza Gilani.
However, a meeting with Lebanese Prime Minister Fuad Siniora was dropped from Bush's agenda after the opening Friday of Arab-brokered talks among Lebanese leaders aimed at ending a long-running feud that drove their country to the brink of a new civil war.
Egypt, which alternates hosting the annual WEF with Jordan, has earned international praise for the economic reforms of Prime Minister Ahmed Nazif and this year's meeting, which runs from Sunday to Tuesday, will be a chance for it to show off the extent of these changes.
However, the benefits of the reforms have yet to trickle down to the majority of the population. Instead, rising global food prices have hit the country's most disadvantaged, leading to strikes and demonstrations in spite of the government increasing subsidy payments from 20 billion pounds (3.7 billion dollars) in 2003 to 125 million pounds (23.3 billion dollars) in 2008.