Petronella to launch her second album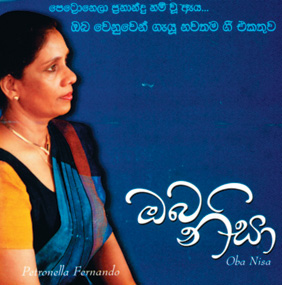 CD Cover
Petronella Fernando, of 'Oba Nisa' fame will be releasing her second album at the Lionel Wendt Theatre on Sunday 25 May 2008 at 6.30 pm. Petronella, a Sri Lankan domiciled in the US, released her maiden collection of songs on CD 'Oba Nisa' and 'Punchi Kumari' in June 2006 along with her very first concert.
'Oba Nisa 2' - a mesmerizing melodious evening for all across the board who love music. Petronella who was born in Sri Lanka left for the United States eighteen years ago to work for the United Nations in New York.
Song, first became her hobby and then this turned out to be a very fulfilling pastime. Being a frequent visitor to her motherland Sri Lanka, Petronella has launched two CDs 'Punchi Kumari' and 'Oba Nisa' - all Sinhalese songs composed and music directed by Rohana Weerasinghe, the late Stanley Peiris, Neela Wickremasinghe and Jagath Wickremasinghe, Geethnjali Wickremasinghe, Dr Ajantha Ranasinghe, Ernie Pieris, Upali Kannangara, Senath Baddege, Manju Nadagamuwa, Sarath Chandranath Weerasinghe and Gamini Seneviratne.
Her voice came to be known to audience around the world as with the song she did for Tsunami in 2005, the tri-lingual song in Sinhala, Tamil and English 'Chanda Sayuru'. This song is dedicated to the Tsunami survivors. She performed this song at the Peterborough Music Festival in the year 2005 and at the United Nations organized - Tsunami and Katrina Fund-raising events. Majority of the songs are dedicated to 'Love and Peace'.
The 'Oba Nisa' CD is now distributed by M- Entertainment and is available country-wide in most of the music stores. Petronella is a trained SOS provider at the United Nations. An SOS provider is called to counsel those affected by any critical incidents-globally. She has built a network of valuable friendships from all around the world through her website which is dedicated for song.
To this end Petronella very proudly says that 'the most fulfilling feature is that I am able to make a difference in situations in those who stretch out their hands for a better place in this world'.
Entrance to the show is by invitations only and those interested can obtain invitations by sending a self addressed envelope to Petronella Fernando, 82/3 Templer Road, Mount Lavinia.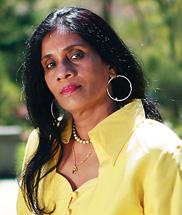 Petronella Fernando