A priest's unrealised dream of 'Dinky'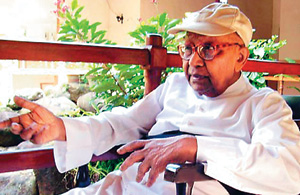 Fr. Don Peter
Fr. Don Peter was called to rest without his much loved pet seen on the big screen. Author, award winning children's writer and educator Rev. Fr. Don Peter would have been happier had he being able to see his much loved 'Dinky', a book about a pet donkey, in the big screen.
But unfortunately Fr. Don Peter was called to eternal rest on April 24 along with his dream to see the cinematic version of his children's story which was to be directed by Nanda Imbulgoda as a children's film. 'Dinky' was one of the three books written by Fr. Don Peter and was booked to be made into children's film.
The story of the film was about Dinky, an unusual pet donkey which came to Colombo from Mannar as a gift to Fr. Don Peter himself when he was serving as the rector of St' Joseph's College, Maradana. Baptised by the priest himself as 'Dinky' it become the pet of the rector, children and everybody in the college. The book contained many interesting true stories relating to Dinky which went about the college freely then.
The script written based on this popular children book was passed by the National Film Corporation under the film production fund. In 2006, director Imbulgoda was instructed to start the pre-production of the film promising to provide Rs. 6 million and signing of documents were done participation of former Minister of Cultural Affairs at a ceremony held with a participation of a large number of film artistes, film corporation and Ministry officials and the media.
However the promised money was not provided to make the film. And Dinky, the donkey who came all the way to St' Joseph's was not fortunate to make to the silver screen with much disappointment to its late owner Fr. Don Peter.