'Water'on Rupavahini
Oscar nominated Deepa Metha's 'Water' will be screened Saturday, May 10 at 10 pm on Rupavahini. Internationally acclaimed direction by the Indian born Canadian director Mrs. Mehta features Sri Lankan child actress Sarala Kariyawasam in a lead role along with Indian actors John Abraham, Lisa Ray and Seema Biswas.
The film also stars a number of other well known Sri Lankan stars including Iranganie Serasinghe, Buddhi Wickrama, Rinsly Weerarathne and Hemantha Gamage. Shot entirely on location in Sri Lanka, the art direction is handled by the well known art director Errol Kelly who had earlier contributed to a large number of international films.
The film examines the plight of a group of widows forced into poverty at a temple in the holy city of Varanasi. It focuses on a relationship between one of the widows, who wants to escape the social restrictions imposed on widows, and a man who is from the highest caste and a follower of Mahatma Gandhi.
The year is 1938, India is ruled by the British, and it is around this time that Mohandas K. Gandhi arrived from Africa to begin his tryst with the British, as well as battle the traditions that bind the Hindus. Not yet in her teens, Chuyia (Sarala Kariyawasam) is married to a much older and sickly male, who shortly after the marriage, passes away. Chuyia is returned unceremoniously to her parents' house, and from there she is taken to the holy city of Banaras and left in the care of a wide assortment of widows who live at "the widows' house," shunned by the rest of the community. Chuyia believes that her mother will come to take her home. Here she meets several elderly women, including the head of the house, Madhumati; a quiet, confident woman named Shakuntala; and a gorgeous young woman Kalyani -- all widows. Chuyia does not know that according to Holy Hindu Scriptures she has been destined to live here for the rest of her life, for when a woman's husband dies', she has three options: One, to marry her husband's younger brother, if his family permits; two, to kill herself on his funeral pyre; three, to live a life of celibacy, discipline, and solitude amongst her own kind.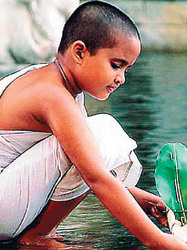 'Water' was nominated as the Best Foreign Language Film of the Year in 2007 and won eight awards at international film festivals including Bangkok International Film Festival with ten other nominations. Among other Hindi films listed to be telecast on Rupavahini over the month of May are 'Mammo' at 10 pm on Saturday May 24 and 'Saathiya' on May 31.
All the films are subtitled in Sinhala. Directed by the reputed director Shyam Benegal 'Mammo' was released in 1994 and it stars Farida Jalal, Surekha Sikri and Rajit Kapur. The film won the National Film Award for Best Feature Film in Hindi in 1995 and Farida Jalal won Filmfare Award of Best Performer (Critics) in 1995 for her role in Mammo in addition to several other internatinal awards.
Mammo is a nickname given to Mehmooda Begum by her sisters. She marries a man from Lahore. After Partition, she and her husband automatically become Pakistan citizens. Although childless, her marriage is a happy one until her husband's death. Over property matters, Mammo is thrown out of the house by her relatives. She comes to India to stay with her only kin, her two sisters. Unable to extend her visa, she has to go back - political priorities defeat humanitarian ones.
The debut direction by Shaad Ali 'Saathiya' (Partner) is a Bollywood movie starring Rani Mukerji, Vivek Oberoi and Tanuja in the lead. It was the remake of a Tamil movie, Alaipayuthey (2000) directed by Mani Ratnam. The story is told in flashback. The film was screened at the Casablanca Film Festival.