Take up the whistle that's the challange
Crowds, of schoolboys, old boys and rugby enthusiasts walked into the grounds at Longden Place, to witness Trinity College and Isipathana taking on each other in the school league tournament. It was just not rivalry that encouraged spectators to the CR and FC grounds. The expectation was that it will be a good game of rugby to watch.
These supporters were not disappointed. The Patana supporters were magnanimous in defeat accepting that Trinity played a better game that day. Outside, during the weekend some were heard to say that it was a shock defeat. It may have been unexpected to some but Trinity roared louder as they worked their way to a good win. It was a good game of rugby at start of the school season despite the weather conditions presenting a wet ground.
The temperatures being neither too hot nor too humid gave the Trinity College an opportunity to show what they were capable of. It was a hard fought game and the crowds were entertained. Isipathana were defeated but definitely not humiliated. They will live on to come back, probably, with a vengeance. Two players who drew my attention were the Trinity Centers while Patana looked a bit unsettled for almost 25 minutes of the first half. Probably it was because Trinity was on attack from the first whistle. The two big centers along with the number eight from Trinity were dangerous in attack and solid in defence. Two teams that are on the ball will do better if players stay more on their feet more than they did last Friday the 25th.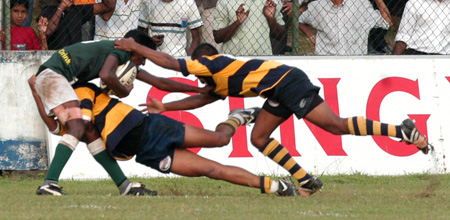 Isipatana had a close win against Royal on Friday - Pic by Ranjith Perera
From games that I have seen last week: Trinity and St. Peter's seem to be above the rest. Last week we also saw S. Thomas' College and Kingswood College winning their matches. I cannot say much of the Kandy side as I have not seen them play. S. Thomas' beat St. Anthony's College Kandy in a lacklustre game. They will have to come up with a better performance that is not ragged if they are to challenge the other schools in the league.
A rugby match at senior level was played in Mount Lavinia, possibly after 40 years. There being few grounds for clubs as well as schools the addition of another will help; at least in a small way. It is a bold decision that they have taken and hopefully this will continue. The ground however 'Looks' little smaller in breadth. It seems to be less than the maximum seventy metres. If it can be brought closer to the maximum, there will be more room for the backs to spread. Possibly the reduction was to avoid damage to the turf. Fair enough if that was the reason. However time may eventually tell that playing rugby will not do major damage if handled properly. What ever it may be the bold step taken is a step in the right direction.
An area of concern is the lack of a marked playing closure on the side closer to the railway line. This has implications to managing the playing enclosure and the perimeter. The open area makes it possible for anybody to walk up to the match officials. The possibility has to be looked into. This did almost happen with an attempt made to walk up to the referee which was prevented by an official of the home team. As reported in last week's Sunday Times the individual is a parent. He is also supposed to be an old boy. What must be understood by people is that big noise and threat of physical harm will not solve issues. Shouting vociferously about how much you know or that you have played the game, possibly, in a different era does not help.
Those who call themselves knowledgeable and know about the game must ask themselves the question "have I ever got onto the field to at least referee an under 11 game'. Those who you condemn and criticize have taken that chance and are at the receiving end. It is those who are less knowledgeable, in your opinion, who has given back to the game at least the little they know. There are around 30 school matches played in a week and possibly another 10 club matches. Sometimes there are junior matches too thrown in .This requires at least 120 0fficials a week spread to most parts of the Island. This is not easy and some of them might be refereeing or running line on consecutive days. It is easy to open the mouth where it is not wanted but to put in a whistle where it is wanted is difficult.
The other side is the bad example to the young. The Australian Rugby Union has a guideline to assist when dealing with expectations of behaviour from players, parents, teachers and coaches. Some thoughts include the need for the young to be taught to maintain the elements of enjoyment and satisfaction in Rugby. The adults must be aware that young people play to satisfy themselves and not necessarily to satisfy adults or members of their own peer group. Teach young people that the result of each game is accepted without undue disappointment. It is also necessary to remember that young people learn best by example. Not to publicly question the referee's judgment and support all efforts to remove verbal and physical abuse from the game. Those officials in what ever capacity give their time and resources to provide a game for young participants.
For the mouthy ones the challenge is open. Take the whistle.
Vimal Perera is a former Rugby Referee, coach and Accredited Referees Evaluator IRB