A rare honour for Lankan music teachers
Tim Arnold, Director International Operations, Associated Board of the Royal Schools of Music, London (ABRSM), the world's premier examining body of Western music is visiting Sri Lanka for the first time on May 8. ABRSM Sri Lanka Representative Mano Chanmugam and his team Neomal and Pam De Alwis have arranged a tight schedule of events which includes a meeting with teachers to acquaint them of the latest developments and techniques employed by the Board to achieve the highest consistent standards in assessing musicianship.
The theme of the teachers' meetings will be A View From the Examiner's Chair where they will be able to ask Mr. Arnold questions, both in his role as a director and examiner for the ABRSM. Tim will accompanied by Sarah Berman, Tours Coordinator for Sri Lanka.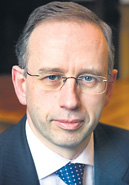 Tim Arnold
ABRSM is the world's premier examining body of Western music employing 700 highly qualified and trained examiners in more than 90 countries to evaluate over 600,000 candidates annually. The Associated Board has the authority of four of the leading conservatoires in the UK: Royal Academy of Music, London, Royal College of Music, London, Royal Northern College of Music, Manchester and the Royal Scottish Academy of Music & Drama, Glasgow.
The Queen is its Patron and the Prince of Wales its President. The Associated Board provides: Vocal and instrumental exams and assessments – a clear, simple framework against which to measure musical development; Publications – music examination and educational support materials together with a wide range of additional repertoire; Professional development – courses, workshops and seminars for instrumental and singing teachers and; Online services – including the multi-award winning website www.soundjunction.org.
After the tsunami of December 2004, the staff of ABRSM London donated a large sum of money for musical education in the Matara environs. During their visit, Tim Arnold and Sarah Berman, will travel south to meet the Director and Coordinator of Healing Hands Children Trust and some of the recipients of the musical scholarship programme.
The highlight of Tim Arnold's visit will be the annual High Scorers' Concert and Distribution of Awards for 2007, where he will be the Chief Guest.
The High Scorers Concert is the Board's annual showpiece of excellence, where young achievers display their musicianship in singing and a multitude of instruments which include piano, violin, cello, flute and recorder.
With a history of over 110 years in Sri Lanka the ABRSM exams have imparted the broadest education in music which has nurtured many a concert artiste who has enthralled audiences the world over.