Natasha wows West End
Where do you go after having been a princess, lion queen and queen to five kings?
I had heard a lot about "the Sri Lankan girl who is doing really well in the West End" but never seen her in a production. I didn't expect to open the door to a slim, long-legged, gazelle-like creature, with a rippling sheet of hair, who walked gracefully in and shook my hand in the friendliest manner.
Just turned 26, Natasha Jayatileke already has an enviable record in musical theatre. At 23, fresh from university, she appeared in her first West End show, as a supporting dancer in Joseph and the Amazing Technicolour Dreamcoat. Since then, she has had two major roles: as Nala in The Lion King at the Lyceum, and as Draupadi in the Sadler's Wells production of the Mahabharata. She is the first Sri Lankan to have achieved this degree of success in West End Theatre - though, in fact, this would be a tremendous achievement for any young actress.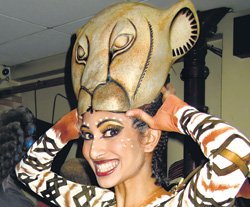 Dazzling: As Nala in the Lion King and below, playing Princess Jasmine in Aladdin
So how did it all begin? "Well," she said, politely refusing my umpteenth offer of Sri Lankan 'love cake'. "I guess it started with my love of dancing. I had my first ballet lessons when I was four. Then, when I was seven, my father took me to my very first musical, which was Starlight Express, and I knew straight away: 'This is what I want to do!' "
"I began to do more and more dancing after school - any kind of dance: ballet, tap, jazz, contemporary - I couldn't get enough of it. I even studied Kandyan dancing with Vipuli." Her parents were sympathetic towards her passion, being themselves from musical families. Her mother plays the piano and sings; her father is an avid music fan, who listens to "everything from the Everly Brothers to Oscar Peterson." Natasha's sister is a talented dancer. In this environment, performing music, singing and dancing must have come almost as naturally as breathing.
Sri Lankan parents usually direct their children towards the more conventional professions such as medicine, accountancy or law, but Natasha's parents are remarkable in that they have been totally supportive of her unorthodox career choice. "My parents were just wonderful. My Mum would patiently drive me to all my dance competitions and festivals and make me beautiful costumes. My Dad took us to all the musicals in town."
For many aspiring actors and actresses, the burning question must be: how did she make the leap from a hobby or childhood passion to a professional career? What was her 'route' to the West End?
"After A' levels, I attended a performance-based theatre school, which concentrated on training for musicals, i.e., mainly singing and dancing. After a year I went to Cambridge, to study English Literature, having decided that I wanted to do a degree as well." At Cambridge, the balance tilted more in favour of acting. Natasha auditioned for the famous Footlights Revue. "I was the Psychiatrist in The Scarlet Pimpernel, then the Cheshire Cat in Alice in Wonderland! It was my first foray into comedy, and I loved it."
Other acting experience included the title role in Strindberg's Miss Julie, Elaine in The Last of the Red Hot Lovers and the Witch in Sondheim's Into the Woods, all at the ADC Theatre, Cambridge.
Natasha graduated in June 2004. She signed up with a theatre agent and in early 2005, was thrilled to get a part in one of her favourite musicals: Joseph and the Amazing Technicolour Dreamcoat. She had known the words of every song in it by heart since she was ten. Now she was to be in it, as one of four 'handmaidens'. But all did not go smoothly. "I was given this gorgeous 'Apache' dance to do. I had achieved my dream: here I was, performing in the West End - and then, suddenly - I wasn't performing in the West End any more! One day, I was halfway through a performance when I fell on stage and tore three ligaments! I was out of the show for six weeks; it was a bitter disappointment."
In 2005-6, she played the principal female character, Princess Jasmine, in the pantomime Aladdin, at the Camberley Theatre. Then, in 2006, came The Lion King. "I was chosen to understudy Nala, the Lion King Simba's childhood friend, and later, his Queen; as well as Sarabi, Simba's mother. I was also in the chorus, doing the zebra track, which was brilliant, because I had so much variety. I never knew when I came in whether I would have to play a main role or not."
I quailed at the very thought, but Natasha appeared to have taken in her stride the challenge of having only a few hours notice to perform a role. "I loved playing a lioness! Though Lion King is a musical, with the emphasis on singing and dancing, it does make demands in terms of acting. For example, one has to portray not only Nala's qualities of bravery and independence, but also the self-consciousness she feels around Simba when they meet as adult lions and start to fall in love."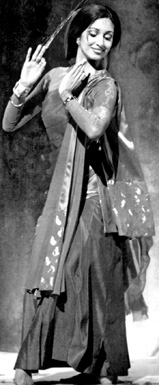 I was curious to know if she had auditioned for a particular part in the musical. She was very firm in reply: "At your first audition, you never perform anything from the show. It's for them to decide what you are suitable for. You're just told to prepare, for example, an up-tempo song or a ballad, or something from a musical. You have to second-guess what might impress them in each situation. For Mahabharata, I had originally thought of 'Danny Boy'. Then I thought: 'Danny Boy?' What am I doing, singing an Irish song at an audition for an Indian show? So I decided to sing a Sinhala folk song instead. My Mum dug out some ancient tapes from the 1970s and my cousin in Sri Lanka looked up the words and emailed them to me. It was called "Suwantha Rosa Mal Nela". They liked it and I got the part. Right choice!"
The high point of her career so far came when, while still doing The Lion King, she was offered the part of Draupadi in the Sadler's Wells production of Mahabharata. Directed by Stuart Wood, it had a script by Olivier Award-winning lyricist Stephen Clark and music by Nitin Sawhney. This innovative and visually stunning staging of India's great epic combined verse dialogue in English with singing in Hindi; its choreography blended Western contemporary dance with the North Indian dance form, Kathak.
Like that other great epic, Homer's Iliad, the Mahabharata is about a great war, caused by a woman. Though probably much older in origin than the Iliad, it is in some ways more radical. Unlike the rather passive Helen, Draupadi is a strong character who defies tradition and parental authority to become the bride not only of Arjuna, her first intended, but also of his four Pandava brothers. It is her outrage at being dishonoured by their cousins, the Kauravas, which spurs her husbands on to embark upon a devastating and fratricidal war. However, it is also ultimately she who learns to forgive and it is she who ends the destructive cycle of hatred and revenge.
For Natasha, Mahabharata was a revelatory experience in terms of stretching her creativity. "It opened up new genres and cultural ideas. I had to sing in Hindi - which I can't speak, or even understand! It was mammoth in terms of acting, because Draupadi goes through an awesome character development in the play. She experiences every possible emotion: joy, disbelief, anger, scorn, grief… From a feminist perspective, you could say that she is incredibly before her time."
The production centred round Draupadi's story, placing great responsibility on whoever played the role. Natasha was singled out for special praise in the reviews, which described her as 'graceful and feisty', 'beguiling' and possessing 'sublime elegance'.
She commented that "Of course, it was controversial. It takes a massive work (one hundred thousand stanzas in the Sanskrit original) and reduces it to two and a half hours. It gives a traditional story a contemporary twist, in which East and West collide. In my opinion, Western audiences seemed more receptive to Mahabharata, whereas Indians had mixed reactions: some loved it, some didn't, though every effort had been made not to tread on anyone's beliefs." Some had objected to the intimacy in the portrayal of Draupadi's relationship with Arjuna, her original husband out of the five brothers, and the man she truly loved. "They felt this was a step too far. But then, this is Art, and any story is open to interpretation. It's rather like trying to stage the Bible in two and a half hours; no matter how hard you try, you're bound to offend someone."
The life of an actress is pretty hard work. Typically, in a show, Natasha works a six day week, with six evening shows and two matinees. This could vary; for example, in pantomime it could be a gruelling two shows every day, six days a week. Contracts could be for six or twelve months, subject to the length of the show. Natasha feels she has been very lucky with the timing of her jobs so far, going straight from one role to another, but it can be an uncertain business, even for the most established. "It's a crazy world to work in - wonderful when you're working, and quite scary when you're not. Liam Neeson once described it as 'feast or famine' - that's completely spot on!"
Can one make a full-time living from acting? Yes, according to Natasha, though she comments that most actors she knows tend to have a "side line" to keep them occupied between shows or for financial reasons. She herself pursues her interest in film production and has worked at Shepperton and Pinewood Studios between shows.
I asked about her plans for the future. "I started with three ambitions. One was to perform in the West End. The second was to be the voice of a character in a Disney film. The third was to open a theatre school in Sri Lanka, to try to impart some of the great things I've been privileged to learn. This is not to deny all the amazing work that people in Sri Lanka are already doing in the theatre world. I would start by taking over troupes of professionals to run intensive courses lasting one or two weeks.
We could put on numbers from popular shows - in other words, take a bit of the West End over there." And more specifically, what's next on her performing calendar? She has had major or starring roles from university days onwards: a pretty high standard to maintain. After all, where do you go from having been, successively, a princess, a lion queen and then queen to five kings?? Natasha confessed that it wasn't easy to find suitable roles after getting such tremendous opportunities so early. But, she did have a new show to look forward to - a musical comedy called "Eurobeat," which was about to open at the New Wimbledon Theatre....
This time, I actually did see her perform! "Eurobeat" is a hilarious musical comedy which is a take-off of the notorious Eurovision contest, the show everybody loves to deride but just can't stop watching. Fetchingly attired in Union Jack colours, Natasha was one half of the all-weather British duo "Rayne and Sheine," who sang "I Love to Love (Love)."
Natasha finds this production a lot of fun - not least because it's the kind of show in which almost anything that goes wrong can be turned into a part of the act! The show continues its tour of Britain for five months and arrives in the West End around September.
Natasha's secret lies in her rare combination of extraordinary talent, yes, but also great focus, discipline and professionalism. Look out for her: This is a girl who is definitely going on to bigger and better things…