Appointed SC judge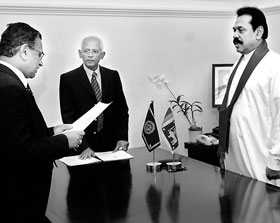 Mr. Ratnayeke taking his oaths before President Mahinda Rajapaksa last Wednesday
Senior Additional Solicitor General P.A.Ratnayeke, PC has been appointed as a Judge of the Supreme Court of Sri Lanka. He was appointed on the recommendation of Attorney General C.R.de Silva. Previously Mr.Ratnayeke was appointed as the acting Solicitor General by the Public Service Commission when the Solicitor General was out of the country. He was also the head of the Civil Division of the Attorney General's Department.
Mr.Ratnayeke has led the State in several important cases. He led the State team in several of the SC references made by the President under Article 129 of the Constitution including the north-east de merger case and the P-TOMS case.
Among the other cases are the Tobacco and Alcohol Bill, the Disaster Management Bill, the tsunami Bill, the application challenging the facilities granted to the former President, the application challenging the privatization of Sri Lanka Telecom and the recent Supreme Court determination when the Budget Act of the Government was challenged.
He has two Masters of Law degrees on International Law and on International Maritime Law. He enrolled as an Attorney-at-Law in August, 1977 and became a State Counsel in 1980.