Health hazards ride on wave of flooding
Residents in affected areas alerted to dangers of water-borne diseases
The recent floods, which have affected some 70,000 persons, have brought in their wake the inevitable problem of mosquito- and water-borne diseases. According to the Disaster Management Centre, last week's floods have affected a total of 67,035 persons and caused 10 deaths.
About 6,000 displaced persons are being presently housed in IDP (internally displaced persons) camps. Keerthi Ekanayake, national co-ordinator for the Disaster Management Centre, provided a breakdown of figures for those most seriously affected by floods: in Colombo 15,664 persons from 3,917 families; in Gampaha, 26,797 persons from 5,382 families; in Kegalle, 4,425 persons from 857 families; in Ratnapura 17,180 persons from 4,382 families, and in Kalutara 2,969 persons from 716 families.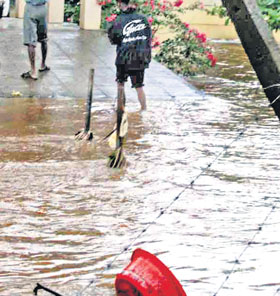 After the floods: The danger of water-borne diseases
More than 6,000 people are being given temporary shelter in IDP camps in Ratnapura, Kalutara, Gampaha, Colombo, Puttalam, Kegalle and Nuwara Eliya. Ten deaths were reported in Kalutara, Ratnapura, Gampaha and Yatiyantota, and the number of houses damaged totalled 218.
Although waters have receded in most flood-hit areas, many areas are under threat of the Chikungunya virus (CHIKV). Laboratory tests show that 85 per cent of blood samples taken from residents in the flood-hit areas carried the virus.
According to Dr. Kapila Kannangara, director of health for Sabaragamuwa province, the Ratnapura district alone accounted for more than 15,000 cases of fever following the heavy rains.
"We still cannot exactly gauge the impact of the floods, but can expect an increase in incidents of certain diseases over the next couple of weeks. Officers of the 27 Ministry of Health areas have taken action to control the spread of the disease."
Dr. Kannangara said the Aedes albopictus mosquito, which is responsible for spreading Chikungunya, tended to breed in jungle areas and natural water pools. "In Ratnapura, uncompleted and abandoned gem pits are excellent breeding spots, as well as areas where flood water stagnate," he said.
Dr. Ananda Jayalal, director at the Ratnapura General Hospital, said the viral fever seems to be under control in the Ratnapura area, but the impact of the recent floods had yet to be felt."The flood waters are receding in Ratnapura, but there's a risk of water and mosquito-borne diseases. Besides Chikungunya, we have also seen an increase in cases of diarrhoea, hepatitis and typhoid fever."
Dr. Nihal Abeysinghe, chief epidemiologist at the Health Ministry, told The Sunday Times that the majority of the population was not immune to the Chikungunya virus and that an outbreak of Chikungunya cases may be expected in the near future.
"A number of cases were reported from the Eheliyagoda, Eratne, Kuruwita, Godahawela and Kiriella areas in the Ratnapura district. There are also fears of an outbreak in Anuradhapura and Kandy."