The silence of the lambs and a cry for justice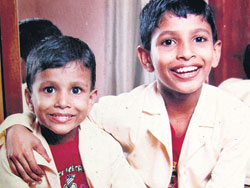 Sanka and younger brother Sithul
On Saturday March 29, twenty-one-year-old Sanka Randeniya astride his motorbike was on his way to his workplace in Maradana, traveling from Narahenpita to Borella. At this point according to his father quoting confidential eyewitness, as he passed the Registration of Motor Vehicles Department (RMV), his bike was hit by a police jeep which took a U-turn in an area where making u-turns is strictly prohibited killing his son.
The anguished father - Sirimal Randeniya- who lost his son in the tragic accident is now appealing to the public to provide evidence which could lead to the prosecution of those he describes as the perpetrators of a heinous crime.
The police report on the incident however states, Sanka lost control of his motorbike and collided with the jeep as a result. The father, however, vehemently denies the police version claiming there was a road sign posted indicating such turns were prohibited.
He is currently looking for eyewitnesses to help him in his quest for justice."My lawyer told me there are two ways to take this case forward, one is to file a criminal case against the driver of the jeep and the other is to seek compensation. But, I'm not interested in compensation. If I do get any, I'll donate it all to my son's school," Mr. Randeniya says.
Sanka was a student of Ananda College and did his Advanced Levels in 2005. Soon afterwards he married and moved out of his home in Mirihana to live with his wife in Maharagama.
His younger brother Sithul (15) says that even after Sanka moved out, he was constantly in touch with his family meeting them at least five times a week.
"He was a really nice and friendly person and a gifted artist. If he saw a vehicle on the road he would sketch it the moment he got home," recalls Sithul.
"Now we hear they're going to Court claiming my brother used a high capacity bike. I told my father there's no point in taking action against these people.
They'd just wash their hands. It's a waste of time. On the other hand, if my brother had caused the accident and something had happened to them, then it would have been a different story," he said.
However Sanka's father is adamant that justice must be done and continues tirelessly seeking eyewitnesses without whom he cannot proceed with the case. Using the media and posters he has unceasingly appealed to persons who may have witnessed the incident to come forward.
"On Wednesday night" he says "I put up posters near the place where the accident took place. A constable on duty tried to get smart with us. We then went to another place. On our way back we noticed that some of our posters had been taken down".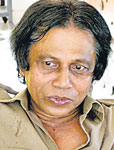 Sirimal Randeniya,
Mr. Randeniya has not confined his search for witnesses to his son's case.
He insists that anyone who witnesses violations of the law being carried out by its so- called guardians should not be afraid to speak out against them.
A family has lost a beloved son and brother.
My struggle is to prevent such incidents from occurring in the future."The crux of the problem is mass silence and lethargy" he said.
Let us awaken the masses, let us make the voices of the masses reverberate in the halls of justice.
The more we keep quiet, the more the perpetrators of injustice will act with impunity he says.