Reviving Rawana's melodies
One of the oldest instruments to be played is given a new lease of life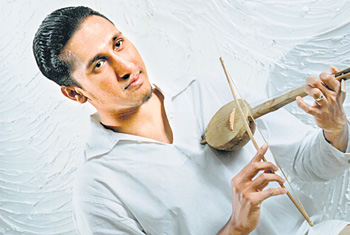 Dinesh Subasinghe
Rawana Haththa is the first instrument ever played with a bow, therefore making it the mother of the violin. The Ramayanaya, which is considered the "Most Oldest Text" talks about an instrument played by King Rawana, which was a bow instrument.
This happened in BC 2524-2514 but if we search the internet or books history states, that the violin was produced by Andrew Amati in Italy in 1550 AD. Yes, it is true that the modern violin was produced by him, but the pioneer violin was born 4000-5000 years ago, and this was called Rawana Haththa.
Dinesh Subasinghe, leader of DeeRCee Members, is the first musician who introduced this ancient violin to the Sri Lankan electronic media and it will be featured at a concert which will be a Classical and Pop Music Orchestra.
He is releasing a CD, called 'Rawana Nada,' which happens to be the first in the world using the Rawana Haththa and Kingiri. In case you were wondering, Kingiri, is recognised as the second oldest instrument played with a bow. Accounts of the Kingiri have been written in the ancient text of The Mahabaratha.
Rawana Haththa is a folk instrument which belongs to northern Indian gypsies and is low in cost and Dinesh feels this would have happened because history would have wanted to hide King Rawana's greatness.
Dinesh is from a middle class family and is not an artiste with big commercial value and therefore finds it very difficult to take his production across the world.
'Rawana Nada' contains 14 instrumentals, which include, "Ninda Nena Rathriya," "Nim Him Sewa," "As deka Piyana," "Pawe Wala," "Piyabanna Asai," "Churaliya," "Mage Punchi Kumari" and "Handa Pana Wage" to name a few. The CD also includes two songs sung by DeeRCee Members, which are, "Mei Adarayadha" and "Hotha Raho" a Hindi song written by Yashoda Wimaladarma.
| | |
| --- | --- |
| | |
| With veteran singer Nanda Malini | With Prof. Khemadasa |
Personal profile
Has played 600 songs, which include 20 films and more than 70 teledramas, under veteran music directors like Stanley Peiris, Prof. Khemadasa and Dulip Gabadamudalige to name a few.

He has created music for 21 teledrams, 10 stage plays and four television documentaries.

Has been invited to compose music for Channa Perera's new movie which will be his debut creation in Sri Lankan cinema.

Dinesh creates melodies for veterans like Nanda Malani, Anjalene Gunatilaka and for today's popular stars.

Dinesh is the leader of the Prof. Khemadasa's Agni Opera Musical Orchestra.

He is a Musician who plays more than 15 instruments.

He was a student at St. Peter's College, Colombo 4 and Maris Stella College, Negombo.

DeeRCee Members perform on Hansawila on Swarnawahini, Matra on Derana TV and Looks Like on Sirasa TV.