Sharif declares ousted judges to return on May 12
Move threatens Musharraf
LAHORE, Saturday (AP) - Pakistan's leaders have set May 12 as the date to restore judges ousted by Pervez Musharraf, further threatening the US-backed president's already diminished grip on power. Restoring the judges has been a top priority for the two main parties in Pakistan's month-old government, but disputes over how to bring the judges back has threatened to break up the ruling coalition.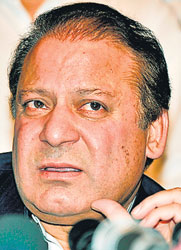 Former Pakistani premier Nawaz Sharif listens to a question during a press conference in Lahore on Friday. AFP
After marathon talks in Dubai this week, coalition officials finally came to a deal. ''I want to inform the entire nation that on Monday May 12 all the sacked judges will be restored,'' Nawaz Sharif, head of the second-biggest party in the coalition, said at a Friday news conference.
''The National Assembly will pass a resolution, and the government will issue a notification in the light of this the same day, and by the grace of God, the judges sacked illegally and unconstitutionally will be restored the same day,'' Sharif said.Farahnaz Ispahani, a spokeswoman for the largest party in the coalition, the Pakistan People's Party, confirmed the plan.
She said it was ''legally possible'' that the assembly, the lower house of parliament, could pass the resolution and that the prime minister could officially order the judges restored the same day. ''Obviously we have the votes,'' she said. Musharraf, a key U.S. ally in the war on terrorism, ousted some 60 senior judges when he imposed a state of emergency in November to stop legal challenges to his re-election as president.
Bringing the justices back bodes ill for the unpopular president, who seized power from Sharif in a 1999 military coup. The judges could revisit Musharraf's disputed re-election. Even if they don't, some argue the humiliation of the judges returning would prompt Musharraf to resign. Musharraf would have to be ''absolutely shameless'' to continue as president if the judges came back, said Khawaja Asif, a key Sharif aide. He said Musharraf also risked impeachment.
''The sheer force of the dynamics of this process will take care of him,'' Asif said. But some believe the government's plans will quickly bog down in legal wrangling. Asif Ali Zardari, Bhutto's widower and political successor, has insisted that judges who took a fresh oath after the purge can remain -- an apparent attempt to dissuade them from siding with Musharraf in order to cling to their posts.
Asif said the government might have to rush through a law to increase the number of Supreme Court judges -- currently capped at 17 judges. But Sheikh Rashid Ahmad, a former minister and prominent Musharraf ally, suggested a resolution would not suffice and a constitutional amendment was required.
The coalition parties have been trying to turn the tables on the president since they routed his supporters in February elections.