Chevron rewards top performers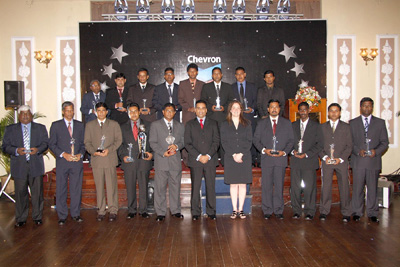 The top performers.
Chevron Lubricants Lanka PLC recently honoured its best and most outstanding achievers for the year 2007 at the Chevron Star Awards held recently. The ceremony was to recognise the exceptional performance of both Chevron employees and the drive and dedication of their business partners.
At this ceremony, Marketing Executive A H T Jayashantha was awarded the coveted award of the event – "The Marketer of the Year 2007" for his outstanding performance during the year. Also at the ceremony the outstanding Company Sales Representative, outstanding Marketing Executive, outstanding Sales Engineer, outstanding Regional Sales Manager, Management Team Member and the Top Intellect Award for the Leadership Team Member were the other celebrated award winners at the ceremony who were honored for their innovative ways to drive enterprise success. At this event, Chevron also acknowledged the accomplishments of their business partners such as the Distributors, Warehouse Managers and Distributor Sales Representatives, the company said in a statement.
The following category winners were ceremonially presented with awards by the Chief Guest Ms. Kami A Witmer, Commercial Attaché & Economic officer for the US Embassy in Sri Lanka, on this occasion:
Anurudha Warnakula -Best Caltex Distributor
Rohan de Silva - Best Caltex warehouse manager
Sagara Karunaratne - Best Distributor Sales Representative
Sumedha Abeykoon - Best Distributor Sales Representative Colombo
Sagara Karunaratne - Best Distributor Sales Representative North
Induka Sampath de Silva – Best Distributor Sales Representative South
Ruwan Chamara – Outstanding Company Sales Representative
A H T Jayashantha – Outstanding Marketing Executive Anura Dissanayake - Best performer from Commercial and Industrial Sales
Sarath Gunasekera - Outstanding Regional Sales Manager
In addition to the above, Chevron also recognized Upali Wijesinghe as the Most Outstanding Management Team Member and Gamini Bandaranayake received the 'Top Intellect Award' as the Most Outstanding Leadership Team Member for their valuable contributions to the organization.