Public phone operator ties up with Tigo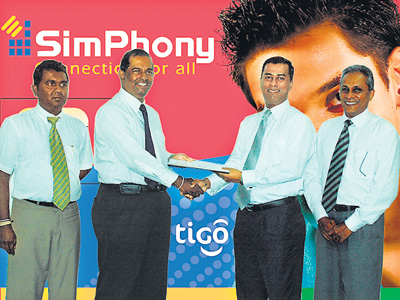 Pic shows - the agreement being exchanged between CEO of CNS Lanka, UGR Jagath Kumara and CEO of Tigo Duminda Ratnayaka. From left -- Sanjeeva Samarasinghe - Deputy General Manager of Tigo, Dumindra Ratnayaka - Chief Executive Officer of Tigo, U.G.R. Jagath Kumara - Chief Executive Officer of CNS Lanka (SimPhony) and Yohan De Silva - Deputy General Manager of CNS Lanka (SimPhony)
SimPhony, the only public phone operator in Sri Lanka which provides a life time unique identity to its customers, recently entered into an agreement with Tigo.
"The partnership with them will further increase our coverage within the island and enable us to introduce more value added features.
It will also provide our customers with the opportunity of purchasing SimPhony Public Phone Cards with Tigo numbers, in addition to the SimPhony cards presently available in the market," CEO of CNS Lanka (Pvt.) Ltd, U G R Jagath Kumara was quoted as saying in a press release issued by the company. CNS Lanka (Pvt.) Ltd oversees the SimPhony operations in Sri Lanka.
An individual who purchases a SimPhony Phone Card can insert it into any SimPhony Public Phone to make and receive calls, send and receive text messages (SMS) and retrieve voice mail messages. The concept is similar to purchasing a SIM card from a mobile phone operator and inserting it into a mobile phone.
When the SimPhony card is removed from the SimPhony Public Phone, it is similar to any mobile phone being switched off. The text (SMS) and voice mail messages received during this period could be retrieved later, the statement said.
Through the wider coverage gained, due to the partnership with Tigo, SimPhony expects to penetrate deeper into the most rural areas of the country and make telephone communication a reality in such areas.
The special antenna used by SimPhony Public Phones, which can receive signals up to a radius of 25 km from a transmission tower too plays a vital role in this scenario.