Janashakthi honours its founder
In recognition of his invaluable contribution to insurance in Sri Lanka, and, Janashakthi Insurance Co Ltd which he founded 14 years ago, the company's management in collaboration with the Wayamba University of Sri Lanka recently launched an awards scheme in honour of C.T.A. Schaffter.
"The CTA Schaffter Award", as it has been called, will be awarded annually to the top three students who excel in the B.Sc (Hons) degree programme in Insurance and Valuation at the Wayamba University. This newly launched degree programme comes at a time when Sri Lanka needs fully fledged professionals in the spheres of insurance and valuation.
This year the course will extensively cover all aspects of insurance and valuation, and is expected to train about 25 such graduates each year. The Best Student will receive a Gold Medal and cash award while the second and third best students will receive Silver and Bronze Medals and cash awards respectively, the company said.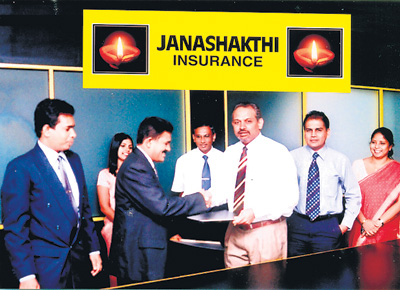 Picture shows Managing Director of Janashakthi Insurance Co Ltd Prakash Schaffter (third from right) exchanges documents in this regard with the Dean of the Faculty of Business Studies of the Wayamba University S.K. Gamage. Also present are General Manager (Sales and Marketing) Ravi Liyanage, Head of the Department of Insurance and Valuation Aminda Perera, AGM Human Resource Development at JICL Lalith Munasinghe, and, General Manager (Insurance) at JICL Mrs. Dayalani Abeygunawardana.