State of the art lab at warp knit fabric plant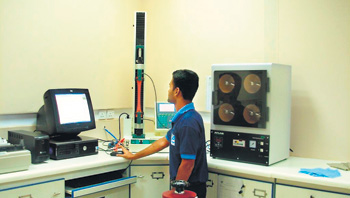 Section of the lab
Cassims International said it had supplied the state of the art laboratory at Dogi International's new plant in Sri Lanka, the first branded warp knit fabric manufacturer in South Asia, Cassims said in a press release. The plant is a joint venture partnership between Dogi International Fabrics (Dogi) of Spain and MAS Holdings, Sri Lanka. Cassims said DOGIEFA offers a wide range of warp-knit fabrics to its customer base by focusing on both collaborative and open-line developments that utilize the latest technology while incorporating trends that reflect the strategic mission of its key accounts.
The lab consists of a testing facility to accommodate a capacity of over 90% of tests which is required for Warp Knitted fabrics. Fabrics are tested for various technical properties; colour fastness, Stretch ability, GSM, and Dimensional stability. The quality laboratory technical team is committed to innovation, development and understanding of new technical properties where they target to achieve the accreditation certification of working with LACE, M&S, and Limited Brands. The laboratory solution was supplied by SDL Atlas UK & USA, as well as ATLAS Germany for light fastness testing, with the DOGIEFA lab area consisting of a 27m2 conditioned room in 180 m2 lab working area. The entire lab was facilitated by Cassims International Ag. in Sri Lanka.
Shums Cassim, Director of Cassims International said "We are honoured and delighted to have supplied the state of the art laboratory at Dogi International's plant in Sri Lanka. As a joint venture partner with MAS Holdings, the quality of the lab instrumentation at DOGI, and its reliability, together with after sales service and support, was always going to be important considerations in selecting the lab equipment." Cassims International, a solutions provider to the Sri Lankan textile industry, represents industry's leading textile technology and machinery manufacturers.