National Procurement Agency shut down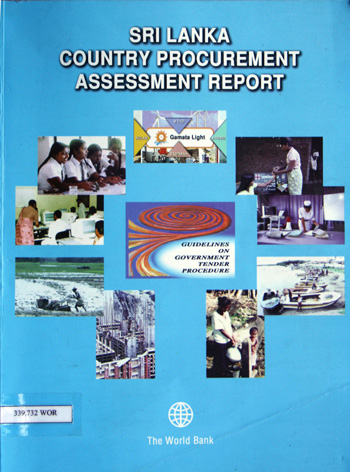 The report that led to the formation of the NPA.
Former National Procurement Agency (NPA) employees are crying foul over the government's decision to shut it down, saying the decision was made due to political reasons and had nothing to do with the NPA's lack of performance or effectiveness. The government officially informed the NPA in December 2007 to close down operations and hand over its assets, liabilities and staff before January 31, 2008. NPA Chairman Daya Liyanage, had submitted a written appeal, dated January 10, 2008, outlining the achievements of the Agency, and urging that it continues.
Further, sources told The Sunday Times FT that the current government which had praised the achievements of the NPA is now describing it as non-performing. Since the end of last year, the functions of the NPA have reverted back to the Public Finance Division of the Treasury Department, under a process described by a Cabinet Memorandum dated 11 May 2004, as time consuming, permitted corrupt practices and also resulted in exceptionally delayed implementation.
The NPA was formulated to eliminate these problems through proper monitoring of the tender process. Sources say that up until December 2007, all government contracts had gone through the NPA but that there have been none since. However, there are still procurement guidelines that have to be adhered to and it is the responsibility of the Public Finance Division to enforce them. Following the government's decision to close the NPA, an international conference on public procurement management and global communications network, scheduled to be held in Sri Lanka in May 2008 has been cancelled. Furthermore, plans to establish a training and research centre in Sri Lanka which the World Bank (WB) had agreed to finance have now been abandoned.
Background
Originally formulated by a Cabinet Memorandum dated May 6, 2004 by then President Chandrika Kumaratunga, the President cited an urgent need to formulate a National Procurement Strategy and streamline the National Procurement System and Procedures with a view to eliminate corrupt practices, waste of time and funds and improve transparency and efficiency pertaining to government work.
This Cabinet Memorandum was based on a Country Procurement Assessment Report on guidelines on the government tender procedure submitted by the WB in June 2003.
The WB Report was carried out with the full cooperation and participation of the Government of Sri Lanka, the Asian Development Bank, the Japan Bank for International Cooperation and the National Construction Contractors Association of Sri Lanka. The senior government officials who participated with the WB in this report include officials from the Procurement Support Bureau under the Ministry of Finance and Planning, the Ceylon Electricity Board, Road Development Authority and Railways Department, the Ministry of Irrigation, State Pharmaceuticals Corporation, Ministry of Port Development and Shipping, National Water Supply and Drainage Board as well as the Deputy Auditor General and the Director General of the Bribery Commission amongst others.
According to documents seen by The Sunday Times, the principal recommendations of the WB report were presented in three time frames. In the short term, recommendations were made to strengthen the Procurement Support Bureau, simplifying the Review and Approval Process, revision of guidelines, development of standard tender and contract documents and the standardization of goods specifications. In the medium term, some of the recommendations were to create a Procurement Regulatory Agency, establish a Procurement Accreditation System, strengthen the Bribery Commission and the Auditor General's Department and to introduce a Code of Conduct. Recommendations on long term actions included enacting a Public Procurement Law if necessary and reviewing, revising and implementing a Procurement Training Master Plan.
Cabinet memo
The Memorandum states that 'the government procurement system and procedure has become a major road block when implementing development programs since it involves a time consuming process which permits corrupt practices and also result in exceptionally delayed implementation. It is a known fact that very often project construction takes lesser time than the connected procurement process. The under utilization of budgeted provisions and foreign aid is largely attributable to procurement delays. Furthermore, although there is a standard procurement procedure as per the Government Tender Guidelines, there are variations from one transaction to another transaction from one ministry to another.'
The Memorandum further states that a scientific and efficient procurement system needs professional input since it is a specialized job. 'In Sri Lanka, the Tender Boards are constituted by Secretaries of line Ministries and the Technical Evaluation Committees by officials of various government agencies. In addition to the limited knowledge and skills that members of such Tender Boards and Technical Evaluation Committees would have pertaining to more complex and sophisticated procurement transactions, such members are required to be engaged in procurement activities in addition to and outside their core responsibilities. This has not only hindered the effective performance of regular work of Ministries and other government agencies but also weakened the intuitional framework required to ensure a well functioning government procurement system.'
According to the Memorandum, the tasks and main objectives of the NPA are the following:
To streamline the government procurement system and standardize the same to be of equal application to all government institutions.

To ensure better transparency and good governance in relation to government procurement awards.

To ensure that all parties who are eligible and desirous of participating in public bidding are afforded an equal opportunity.

To ensure that when procuring the government will get best value for money in terms of price, quality and timely delivery.

To ensure that the government procurement system is made efficient and simplified in order to promote development needs of the country.

To put in place a monitoring system relating to selection of successful bidders and award of government tenders.
Presidential Directive
A Presidential Directive dated July 8, 2004 based on the May 2004 Cabinet Memorandum, stated that the government is desirous of implementing an efficient and transparent public procurement system with the objectives listed above in the Cabinet Memorandum.
Furthermore, according to the Directive, the Board of Management of the NPA comprised of Chief Executive Officer/Chairman Daya Liyanage, Chandra Wickremasinge, Ananda Gunasekera, Dayanath Jayasuriya and Dayani De Silva. The functions of the Board are the following:
To develop, implement and review policies and practices on procurement of goods and services and the disposal of goods and services.
To develop a set of practical and more efficient guidelines for the procurement of goods and services and the disposal of goods and services, in keeping with the government policy to ensure their compliance. To identify and categorize priority procurements and directly be in charge of such procurements.To develop a procedure pertaining to procurements and disposals and ensure that such procedure is followed.
To give assistance, guidance and advice pertaining to procurements and disposals including assistance in relation to connection negotiations.
To review procurement and disposal proposals in line with the procurement guidelines.

To develop and implement an appropriate awareness and training framework pertaining to procurement and disposal activities.

To advise on the applicability etc. of the procurement guidelines and related legislation.

To peruse and grant concurrence to tender documents and notices.

To prepare a set of standard documents to be used in regular tenders and specific documents for the more complex tenders.

To ensure that international tenders are also called in addition to local tenders, when appropriate.

To receive, open, examine, evaluate and approve tenders and make related awards.

To appoint Tender Boards and Technical Evaluation Committees.

To undertake any incidental or connected activities.
Progress
A progress report of the NPA from 1 November 2005 to 20 December 2007 provides information on its projects and on going activities. In order to standardize and simplify the government procurement system, projects included formulating guidelines for govenment procurement of pharmaceuticals and medical devices, consulting services, public private partnerships and local government institutions including Pradeshiya Sabha. The NPA was also formulating standard bidding documents for various public institutions, preparing a bidders' guide to success in public procurement as well as assisting, guiding and advising institutions and clients. Furthermore, the NPA was in the process of formulating an effective coordination system to interact with the Line Ministries and government agencies and developing a web based procurement monitoring system (WBPMS).
Other projects related to strengthening and monitoring government procurements, strengthening the government procurement capacity and enhancing the transparency and good governance of government procurement.