Talking of MR. RUGBY
Moosa or Moos as some were used to call him is no longer with us. He passed away on the 13th of April having suffered a heart attack. It was sudden and unexpected to all. Moosa was up to the last hour of his death looking after his brother. Abdul who was sick
Moosa or Mohammed as Dr Maiya Gunasekera calls him was involved in rugby from his young days while schooling at Royal College. Unlike many who watched played and or just enjoyed the game, Maya recalls that Mohammed always had an interest of learning the laws of the game? It was indeed a rare achievement as even many adults who are rugby enthusiasts did not show an interest in the Laws of the game. He took up to refereeing as a school boy and did referee for a long time.
Moos the keen student followed the changes and always imparted his knowledge on the basics of the laws and how to referee. This happened for almost eight weeks every Sunday where he would meet the new referees at the CR and FC pavilion. Around 1991, the group that met included: Nizam Jamaldeen, Aruna Jayasekera, Asela de Silva, Sanjiva Saranapla, D. Nimal, Lasantha Jayawardena, and T. Chang. This lot has since then refereed at the higher level while some are still on the field. . It were the basics that he taught to this group as well as others that stood with them as they climbed the ladder of refereeing or in other paths that they chose to take to in the game.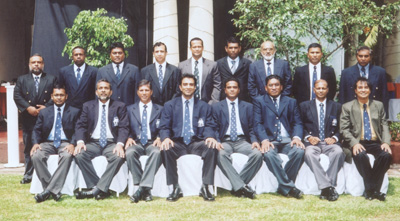 Moosa with his other SLRFU colleagues along with president Priyantha Ekanayake.
He maintained his involvement in rugby, particularly through the Sri Lanka Society of Rugby Football Referees where for more than 30 years he was both trainer and mentor for generations of referees. He was still attending meetings and assisting with the training and coaching of referees up to and close to the time of his death.
He was always calm and well in control of his answers even when questions were directed at him at times during matches. It was not of him to be critical of a referee and or give opinion to substantiate what others wanted to be confirmed. He was an ardent lover and follower of rugby and was well known personality among rugby enthusiasts in Sri Lanka, and more at Royal College and the CR and FC. People would invariably talk to him when they wanted an interpretation of what referee was doing and why. He always carried a cool head and through his answers gave a balanced opinion. At times he would not answer those asking questions when the criticism was hard and thus avoid getting into a controversial discussion .However much he knew he would not openly discuss the aspects of refereeing but would do so on a one to one situation with the referee or at meetings of referees.
What started as an interest in school he chartered a career in rugby having been a Referee, a Secretary and the President of the Referees Society. He was also a past President of the Asian Rugby Football Union Referees Society Moosa was appointed as a referee reviewer/selector for the Hong Kong Sevens and the Singer Sri Lankan Sevens during the initial years while also being a reviewer selector at the Asian Games in Korea.
The contribution to rugby by Moosa was not only in Sri Lanka as simply confirmed by the message sent by the Hon. Secretary General of the Asian Rugby Football Union and copied to all the Member Unions. The familiar bearded figure donning a hat seen on the rugby fields will be missed but what he has contributed to the game will remain forever.
M.R .Moosa gave a lot to the game of rugby specially to the community of referees as he redirected their sporting qualities – passion, dedication, and camaraderie to taking up the whistle while most would stop at being critical.