Hikkaduwa: Road rage frightens tourists away
Hikkaduwa, a once popular tourist destination in the Southern Province may soon disappear from the tourist map of Sri Lanka, due to lack of proper planning, those involved in the industry have warned. One of Hikkaduwa's main attractions is the Under Water Marine Sanctuary, more popularly known as 'Coral Gardens'. This attracts not just holidaymakers but also marine biologists, naturalists and conservationists.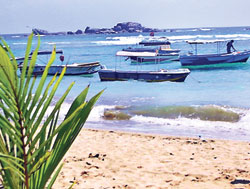 An idyllic scene
One of the main issues affecting the Hikkaduwa resort, 20 km north west of Galle, is the reckless driving along the Colombo-Galle main road, that cuts through the town area. Hoteliers complain that tourists who come here in search of a relaxed holiday are instead faced with the nightmare of speeding vehicles. Some years back small blocks of concrete had been placed, along the middle of the road as a temporary move to curb speeding, but that only resulted in the bifurcation of the already narrow stretch of road. Members of the Hikkaduwa Hoteliers' Association said within weeks this RDA project came a cropper, although lots of money was spent on it, with many accidents being reported. They also said vehicles went over these concrete blocks crushing them to pieces.
Hoteliers complain that discussions over the years with officials of the Tourist Board and the Ministry of Tourism, to find a solution to this problem have borne little results. They say that although there was a proposal as far back as in 2003 to develop an interior road as a bypass little has been done about it.
The Sunday Times learns that an interior road in Milla had been earmarked by the Tourist Board, to be developed as a bypass. However, a foreigner who owns a hotel, by the side of this road had reportedly objected on the grounds that the noise of the vehicles along this bypass would disturb the clients.
Meanwhile Hikkaduwa UC chairman Winnie Kariyawasam also confirmed that many tourists were keeping away from this holiday resort because of the risk they face on the main road. He said he had received many complaints from foreigners that they feared for their lives even when they merely went for a walk or a shopping expedition along the main road. He said some holiday makers had vowed never to return to Hikkaduwa and had voiced their surprise that such speeding was permitted in what was considered a resort area.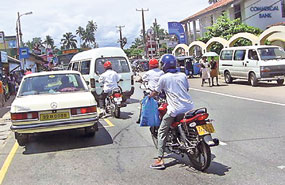 Hikkaduwa town: Congested with traffic
A disgruntled hotelier, Nissanka Epaliyana who owns a Tourist Board Approved Restaurant, ABBAS, said although authorities give sunshine figures of the number of tourist arrivals, Hikkaduwa had already become a tourist desert. He said for the past several years all that the Tourist Board and other relevant authorities did was to call for meetings with hoteliers, listen to their grievances and waste paper on various proposals to improve the industry, but eventually do little or nothing.
Local hoteliers also complain that their businesses are being outdone by rich foreigners who buy or lease out land and run their own upmarket mansions. They say foreigners who run these 'private houses' don't pay a cent as rates to the local council. They complain while local hoteliers have to pay high taxes for liquour permits and other services, these foreigners who run their businesses under the guise of private houses are exempt from all taxes.
Hoteliers and visitors to this resort town also complain that in the absence of a branch of the Tourist Board Information Centre to provide authentic information on the cultural and historical significance of the area, self made tour guides trot out false information causing irreparable damage.