Odds and Ends
Fool proof security?
In a VVIP place there was an alms giving recently in memory of a dearly departed and security here is supposed to be fool proof. Among those who attended this religious function was a close cousin who is in a list of 150 people normally allowed to come in to this palace without any body checks after surrendering the national identity card. Folks believe it or not, the man had surrendered his wife's ID and attended the ceremony and also collected the same ID on his way out without anyone spotting anything wrong.
Only Devas will know
Whilst delegates, mostly Sri Lankans, were busy at the two-day conference in Oslo last week, on 'peace and reconciliation', one of its two co-sponsors, member of the European Parliament, Nirj Deva (Niranjan Dev Aditya) was otherwise busy.
On the sidelines of the conference, he was going around showing his passport to all and sundry. It was not his British passport since he is a British citizen, a one time Conservative MP in the House of Commons and now a member of the European Parliament.
This was a valid Sri Lankan Diplomatic Passport that gave his profession as 'Ambassador'. The billion dollar question is how an MP of the European Parliament possesses a Sri Lanka diplomatic passport with his designation as 'Ambassador'? It will no doubt set a poser to the Foreign Ministry. The question whether an MP in a foreign Parliament is entitled to one when his own designation is different.
To some, whilst showing his Sri Lankan diplomatic passport, Deva remarked there had been references to him in this column in the The Sunday Times. We reported that Deva together with Erika Mann were co-chairs of the conference. The conference website (www.sap2008.org) had referred to Deva as 'Member of European Parliament, Ambassador at Large for Sri Lanka'.
Soon after the report appeared, the part 'Ambassador at Large' was removed from the website. Deva was showing his Diplomatic Passport to prove that he was still an 'Ambassador' though not one 'at Large' as the conference website claimed.
But a wag at the conference remarked he was sure Deva would not use at any time that Sri Lankan Diplomatic Passport with the profession given as 'Ambassador', to enter the United Kingdom.
The reason: He said one of them who used it giving a wrong designation (and a wrong name) was Vinayagamoorthy Muralitharan alias Karuna, the renegade LTTE eastern leader. He called himself Kokila Gunawardena and his designation was given as Director, Wild Life.
He was charged in courts and pleaded guilty. He is now a guest at Her Majesty's prison, Wormwood Scrubs. Does Deva, who claims he is helping Sri Lanka, need a Diplomatic Passport to do so? Or is it a passport to help himself. Only Devas (not Aditya) will know!!
Multiple FMs
The Diplomatic Community is perplexed over who is actually the Foreign Minister of Sri Lanka. This is because of the escalating visits undertaken by several ministers as well as public statements on the conduct of foreign relations. It looks like Sri Lanka has appointed 'Foreign Ministers' for individual countries! e.g. Rajitha S is in Oslo--looks like he's the point man for Sri Lanka's relations with Norway.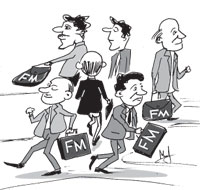 Then, Milinda M is in Washington--the perennial 'expert' on US relations. Obviously he's at home away from home filing his tax returns in that country. GLP, having undertaken a visit to Brussels and issuing many a statement, is now the 'authority' on EU relations. Karu J seems to be the Government rep. for relations with Germany (having served there as Sri Lanka's Ambassador under the Premadasa regime) and now the UK (since his tete-a-tete with Liam Fox recently). Then there's Mahinda S who is more the Permanent Representative of Sri Lanka to the UN!! constantly undertaking visits to Geneva and New York and speaking on SL-UN relations ad nauseum.
Of course, Sri Lanka's relations with the Big 3 for defence procurements - China, Russia and Pakistan - are dealt more through the Defence Ministry.
To round up the list, there's Palitha K who, while not being a minister, is more the Secretary of Australian relations--meeting his 'bosses' on his regular private visits to Down Under. Where does all of this leave the actual Foreign Minister and his Deputy? While Rohitha B takes off to any place outside Sri Lankan waters at the drop of a hat given the opportunity, Bhaila the deputy is quite content taking 'urgent action' to get Sri Lankans off death row in the Middle East!
Snubbed?
On MR's visit to China, the point must be made that he only met the leaders of China and Pakistan--pretty much a home & home affair--having met these leaders, under severe international pressure these days, several times before. Although there were many other world leaders at the BOAO Summit, our delegation could not secure a single other meeting for the Prez and people are now whispering, are we getting the snub??
May be true, as the next leader MR is set to meet is the Iranian guy--great company ah? But, there are serious rumblings over the final delegation that accompanied the Prez to China--No spouse, why Nauzer Fowzie?, No Kohona. Upon disembarking at Katunayake, MR was heard remarking, 'Program eka madi ne. Foreign Ministry eken aapu aya pana madiy.' & then asked GLP to make a public statement on the visit, something that is normally done by the Foreign Ministry.
Going, going, gone
Controversial head of the troubled Government owned budget carrier Mihin Air, Sajin de Vass Gunawardena, who defied his critics by clinging to the job all this while, finally announced his departure from the airline to his employees on Friday. Primarily blamed for running up losses amounting to more than three billion rupees by the carrier in less than a year of flying, young Sajin told his employees that he was leaving on April 29 to take up "a much bigger project." The flamboyant outgoing CEO also spilled some home truths in the process when he declared that he cannot work in one place for more than one year. He certainly has worked in a dozen or so jobs in his short working career.
Still said to be in his thirties, he made the announcement when the company's 150 odd employees gathered for a group photo at the BMICH to mark its first anniversary which falls on April 24. His successor we are told is former Head of Commercial at SriLankan and its current country manager in Beijing G. T. Jayaseelan. When critics were laughing at Mihin when it was launched Jayaseelan is one guy who had said the country needs more than one Mihin to meet the growing air traffic demand to/from the sub-continent which, however, is the national carrier's bread and butter as well.
Hill in a rumour mill
The rumour mill started working overtime when former Emirates appointed CEO of SriLankan Peter Hill who had to make a hasty exit from Sri Lanka late last year returned to Colombo during the New Year season with his Sri Lankan wife on a holiday, The Government withdrew his work visa following the airline's failure to accommodate President Rajapaksa and his entourage on a SriLankan flight from London.
When we contacted him to put these rumours to rest, Mr. Hill assured us that he and his wife's visit to Colombo was purely on holiday as they love to be here and they would be going back to Dubai at the end of next week.
Asked what he was doing since relinquishing his duties as SriLankan CEO at the end of last month, he said he had a new role in Dubai to help the government there to set up a new regional budget carrier. In this task he expected to be seconded by Emirates to assist the local CEO to set up the new venture next year. The new budget airline will tackle destinations not covered by the Emirates airline and the distance to be covered will be a radius of four to five hours flying time, which would cover destinations in Iran, Cyprus etc. Asked for its name, the former SriLankan CEO said it was still not decided.
Disarming potential victims
The LTTE is well known for its duplicity, especially when it comes to disarming potential victims. It is now only too well documented how it charmed TULF Leader Appapillai Amirthalingam through so-called emissaries just before he was gunned down. Similarly, Rajiv Gandhi was lulled into a false sense of security by a top Lankan Tamil banker working in Europe just before he was blown up by a Tiger female suicide bomber. Then our much loved Foreign Minister Lakshman Kadirgamar just before he was killed by a Tiger sniper was also misled into believing that the LTTE was not gunning for him as long as he was FM. Now evidence has surfaced that when people close to Minister Jeyaraj Fernandopulle raised the threat to his life from the LTTE just a week before he died, Mr. Fernandopulle had told them that he had got a message from the LTTE Administrative Head identified by his nom de guerre Sinnappa Master that he would not be touched. In return this messenger had apparently only wanted him to be nice to LTTE front men in Parliament, the TNA members. This must be the reason why Mr. Fernandopulle had casually come to Weliveriya early morning on April 6 to flag off a marathon without even getting a security clearance from the area police. Since he had come there long before the event he had even casually gone to a nearby place for breakfast. And not even a handful of security personnel had accompanied him as most of his security had been on duty till the early hours of that day in his house as there had been a party there the previous night. So George Santayana was quite correct when he said: "Those who do not learn from history are condemned to repeat it".
Learn at least now
Political bosses who take their personal security lightly pay with their lives, most unnecessarily. First to go that way in recent times was President Premadasa, who decided to walk with the masses in the 1993 UNP May Day procession against the advice of his own security and paid with his life. In the run up to the New Year Minister Jeyaraj Fernandopulle too paid with his life possibly thinking that by going to a place unannounced well ahead of the event he could outfox the terrorists, but it was not to be so. The main reason being terrorists' moles are everywhere. Yet another top politician continues to act in such erratic fashion virtually beckoning terrorist hit teams by attending funerals, weddings etc., on the spur of the moment. He should consider himself lucky so far. But at least now he should take the advice of the British Iron Lady who once said the terrorists only need to be lucky just once and change his ways for his own good.
Prize catch?
The introduction of price controls on rice may have driven a SLFP heavyweight into the arms of the party's rebel camp, which was starving for new recruits up to now. The party heavyweight had confided in friends that the price controls and follow up raids are hitting his brothers who are big time dealers in the commodity. He is said to be meeting rebel leader Mangala Samaraweera these days in London and Paris, according to a popular radio discussion. Ironically this minister was to lead evidence against Samaraweera at the party disciplinary inquiry now scheduled for May 27.