Word nerds
Featured Book: Sinbad in Serendib by Richard Boyle (non-fiction)
"You don't reach Serendip by plotting a course for it. You have to set out in good faith for elsewhere and lose your bearings serendipitously," Sinbad is informed in John Barth's The Last Voyage of Somebody the Sailor (1991). Richard Boyle proposes in Sinbad in Serendib that the resolute traveller from Baghdad's encounter with the island was indeed a discovery of something unsought, or serendipity – a concept that's focused on in another of this volume's essays. On Sinbad's eastward journey, perhaps his ship had run aground at a notorious wreck location, Okanda, the sole place on the island's coast-line hemmed in by a high hill, largely conforming to Sinbad's description.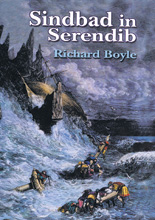 Particular knowledge of Serendib is revealed by Sinbad, a character whose occurrences were shaped from the reports of early Arab traveller-traders. He climbed Adam's Peak, witnessed a perehera, and mentioned the pearl fishery and rubies – this last pair also subjects of essays included in Boyle's collection. But eventually Sinbad became homesick and sailed away with gifts from the King of Serendib to the respected Caliph of Baghdad, Haroun al-Rashid, including an enormous snakeskin and a beautiful slave girl, who "shone like the moon."
Sinbad wanted to enjoy Baghdad, but the caliph commanded him to return to Serendib with reciprocal gifts for the king, including a table that once belonged to King Solomon. On the voyage him Sinbad was captured by pirates and sold as a slave, where he was put to slaughtering the elephants of Serendib for their ivory. After several months, a herd surrounded the tree in which he hid, uprooted it and sent him flying. He feared the worst, but an elephant caught him, placed him on its back and transported him to the legendary elephant's graveyard, supposedly near Adam's Peak. Upon seeing the number of tusks lying unclaimed on the ground Sinbad realized he had been brought here to stop persecuting the elephants.
With its distinctly ecological undertones, Sinbad in Serendib is one of 15 intelligent, whimsical and altogether entertaining essays by author Richard Boyle; each of which examines and celebrates some aspect of Sri Lankan legend, lore, history and culture.
A Moveable Feast by Ernest Hemingway (non-fiction)
"If you are lucky enough to have lived in Paris as a young man, then wherever you go for the rest of your life, it stays with you, for Paris is a moveable feast."
Hemingway's memories of his life as an unknown writer living in Paris in the 1920s are deeply personal, warmly affectionate and full of wit. Looking back not only at his much younger self, but also at the other writers who shared Paris with him – literary 'stars' like James Joyce, Wyndham Lewis, Scot and Zelda Fitzgerald, Ezra Pound and Gertrude Stein – he recalls the time when poor, happy and writing in cafes, he discovered his vocation.
The World According to Garp – John Irving
Garp was a natural storyteller," says the narrator of John Irving's incandescent novel. "He could make things up one right after the other, and they seemed to fit." Irving packs wild characters and weird events into his classic while amazingly maintaining the rough feel of realism in every scene and the pulse of life in every heart. From transsexual football players to ball turret gunners lobotomized in battle – Irving makes them all people. How does he get away with his killer cocktail of slapstick and horror? Because it's simply what we all face daily, rearranged into soul-satisfying art. "Life is an X-rated soap opera," according to Garp, and who can contradict him?
In Praise of Slow by Carl Honoré (non-fiction)
In Praise of Slow is the first handbook for the emerging Slow movement. Through a blend of anecdote, reportage, first-hand experience, history and intellectual inquiry, it explains how the world got so fast and why slowing down can pay dividends in every walk of life. To illustrate the benefits of deceleration, the book travels from a Tantric sex workshop in London to a meditation room for executives in Tokyo, from a Chi Kung squash class in Edinburgh to a SuperSlow exercise studio in New York City, from a TV-free household in Toronto to Italy, the home of Slow Food, Slow Cities and Slow Sex movements. Wherever you go, whatever you do, the message is the same: slower is often better.
All titles available at Vijitha Yapa Bookshop on request.