Silver jubilee on the journey to Calvary
Ranil Rajapakse, a talented artiste who had dedicated his life to stage plays celebrated "silver jubilee" playing the role of Jesus Christ in passion plays. Ranil, an actor who had performed on stage and played in a number of well-known films and teledramas brought his remarkable performance for the twenty fifth year at the passion play 'Calvary Yagaya" staged on March 21 at St Mary's Church Mattakkuliya. It was directed by Shanthi Dias to a script by Clement Fernando of Duwa.
His first performance, the role of Jesus Christ was staged on April 2l, 1983 which was directed by Professor Lal Thamel under the patronage of Rev.Fr. Joseph Perera O.M.I.. Since then he continues to act this role with great interest and devotion. Ranil developed his inborn talents at De La Salle College and Sri Lanka College Colombo I 5. His first performance in school was in David and Goliath a great story in the Old Testament.
In 'Merchant of Venice' he played the role of Shylock and was very popular among his school mates. Recognising his latent talents, Ranil was introduced to the Colombo Art Circle through which he joined stage dramas "Abimanaya"," Pathuma", "Pasweni Manamalaya" directed Senadeera Kuruppu. In 1978 he acted in "Lathanomawan" and "Beckett" directed by veteran playwright and actor Bandula Vithanage.
Ranil advanced a further step making his appearance in the silver screen in 1979 in "Nayanage Kathawa" a short film and in "Hari Yanakota Ohoma Thamai" along with the late popular actor "Vijaya Kumarathunga" directed by Gamini Hewawitharana. Thereafter he played in a number of films including "Hondata Hodai", "Iranama", "Ha Maga" and "Para Dige".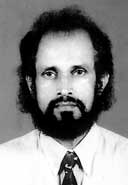 Ranil Rajapakse
From 1980 to 1988 Ranil extended his talents in the miniscreen in playing in the teledramas "Kurulu Kedella", "Ran Kahawanu", "Beckett" and the main role in Easter tele drama "Judgment of Pilate". He also starred in the teledrama "Api Ohu Meruwemu" portraying Jesus Christ directed by Francis Wanniarachchi on I.T.N. He also starred in Sunil Hemasiri Fernando's "Lapa Nomawan' with Nanda Wickramage, as a soldier of liberation. He starred as Jesus Christ in the stage play "Judgment of Pilate" for many years. This stage play was directed by Professor Lal Thamel. Continuing his dramatic life Ranil took part in the stage play 'Eh Kumatada?" directed by Shanthy Dias of Modera, for more than five years.
Ranil also starred as Ven. Joseph Vaz in "Supuwatha" the teledrama comprising four parts produced and telecast by Sri Lanka Rupavahini Corporation. Ranil also played in teleplays "Awanaduwa", "Song of Golgotha", "From Stage to Golgotha", "Way of the Cross", "The Lord is with us", "Story of the Good Samaritan", "Christmas is approaching", "Loves wonders" and "From stage to Calvary" produced and directed by the much honoured Rev. Fr. Moses Perera and Thiraj Lester , a Producer and Programme Director for Rupavahini.
"Above all the other roles, I feel privileged and specially blessed for being able to play the role portraying Jesus Christ for about 25 years and the opportunity to direct passion plays at St Mary's Church Mattakkuliya, under the guidance of Rev. Fr. Mark Fernando. In addition at Mattakkuliya, Ranil also starred as Jesus Christ in passion plays at Jaela, Kanuwana, Tudella, Moratuwa, Maththumagala, Galle, Kaleigana, and Matara.
For Ranil playing Jesus Christ is not a mere performance role but an act of faith. He fasts the 40 days from Ash Wednesday and performs the way of the cross daily. Ranil has groomed a group of youngsters to continue this good work for the future.
In recognition of his dedication to art and Passion plays he was felicitated by a number of local and national organizations. In 2004 he was felicitated by Modera United Grama Samithiya and Tharuna Kela and Kanuwana Easter Committee in 2005. Ranil was also felicitated by Ratnapura All National United Organization, during the Sama Sri Jana Sammana Ulela, where he was honoured with the title "Sama Sri Kala Manawa Premi" in 2006.
"All through the run up on this journey of success I was assisted and encouraged by artistes Vijaya Kumaratunga, Jayasekara Aponsu, Rodney Warnakulasuriya, Anoja Weerasinghe, Pricila Rajapakse, Shanthi Dias and Programme Director Rupavahini Thiraj Lester to all of whom I pledge my gratitude," Ranil said in a grateful tone.
In addition to acting Ranill also contributes to "Gnartha Pradeepaya", the Catholic weekly newspaper as a freelance journalist.