Bagging plastic
An ambitious project to save the environment and promote the recycling industry moves on
We encounter it all the time: plastic and polythene waste collected in households -- piled up on garbage dumps causing severe environmental problems, soil and water pollution, not to mention the eyesore it creates for the public. In the Colombo district alone, 1,256 tons of garbage waste is added to the environment daily, of which 7% is plastic waste, Ministry of Environment statistics for 2005 reveal.
Numerous efforts have been made to ban the use of plastic and polythene in the past few years. Now the Central Environmental Authority has identified that plastic 'waste management' is of vital importance to address this pressing issue.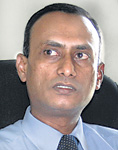 Rizvi Majeed: the project director
The CEA together with the Plastic Partnership Committee (a Cabinet-approved committee consisting of plastic manufacturers and private sector importers) has embarked on the National Post-Consumer Plastic Waste Management Project covering three main areas -- the setting up of a waste collection system, a recycling network and an awareness campaign. This project is implemented by the CEA with the PPC monitoring its progress.
M. Rizvi Majeed, the project's director, says their immediate aim is to get rid of the garbage problem initially in the Colombo and Gampaha districts - which are identified as areas with high usage of plastic."Through CEA's Divisional Environmental authorities, we contact local council officials to distribute different bags for different types of garbage," he says explaining the operation.
"When the project was launched in 2007, we identified 1,000 households in the Malabe area which comes under the Kaduwela Pradeshiya Sabha and distributed bags to collect waste. We told them to separate the waste as plastic, glass and paper," he says adding that although the project is mainly on plastic, "we cannot leave out other recyclable material."
Mr. Majeed says collection centres will be set up in public places such as supermarkets and schools. The project is also to be implemented in flats and condominiums. The project's second objective is to develop the country's recycling industry which is largely idling.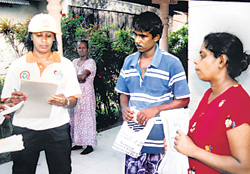 Project officials on an awareness campaign tour.
"They used to complain that their machines were just idling as they do not receive enough waste material for their factories. But with the implementation of this project we keep them happy and busy," Mr. Majeed says. A technical committee has also been set up to address the grievances of plastic recyclers while a CD has also been produced to educate those who want to venture into plastic recycling industry, he says.
A hotline -- 077-3909090 -- has also been set up by the project to promote a buyer-seller network. Mr. Majeed says NGOs and private organizations interested in providing collection strategies are welcome. An awareness campaign aimed at changing the attitudes and behaviour of the people is the third objective of the project.
"We have conducted workshops on waste collection and segregation, types of plastic available and benefits of recycling, mainly targeting school children. We have had a training programme for teachers who teach environmental subjects in Colombo district schools and have distributed CDs, booklets etc. to educate students on segregation and waste collection." In the second year, he says they hope to take the project to the Central and Southern Provinces.