Faith flies high at pageant
Twenty-two-year-old air hostess crowned Miss Sri Lanka for Miss Tourism Queen International
The Hilton Colombo Ballroom was a hub of activity on Sunday March 23, as 11 vibrant and attractive young women vied for the crown of Miss Sri Lanka 2008. And one would go on to represent Sri Lanka at Miss Tourism Queen International in China from end March – April 12, and then later on in the year at Miss International in Japan.
The evening started off with the lively Sri Lankan drums and more entertainment items from Anushan and his dancers. And then it was time for the main event - the swimwear, cocktail dresses and of course, saree parades.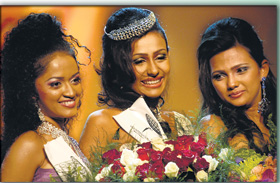 Faith Landers flanked by first runner up Natasha Jayathunga, left, and second runner up Jamie Wright
Prior to the finals a number of mini pageants had been held. Coming out on top at these mini pageants were Nimeshika Alahakoon who won Miss Glowing Skin, Faith Landers who was Miss Swimsuit, Dulanthi Batathota - Miss Beautiful Hair and Lucille Diaz who won Miss Personality while Miss Photogenic and Miss Amity were won by Jamie Wright.
And then it was time to announce the final six: Lucille Dias, Dharani Wijesinghe, Jamie Wright, Nimeshika Alahakoon, Natasha Jayathunga and Faith Landers. After a lively performance by the ever popular Coreen Almeida, the moment that these girls had been waiting for arrived. The coveted title of Miss Sri Lanka 2008 was won by vivacious 22-year-old Faith Landers. The first and second runners up were Natasha Jayathunga and Jamie Wright respectively.
We caught up with Faith just a few days before she was to leave to China to participate in the Miss Tourism Queen International pageant. Born and brought up in Bandarawela, Faith studied at the Bandarawela Convent, before the family moved to Colombo and she joined St. Bridget's Convent. "I am the youngest in my family," she said adding that she has two older brothers who incidentally, are 14 and 15 years senior to her.
Faith works as an airhostess for Sri Lankan Airlines and enjoys her job. "It's marvellous," she enthused, explaining that she never wanted to do a desk job but always wanted to be able to move around and meet people. "I got a promotion within a short period of time," she says proudly, explaining that she now works on Business Class. She along with the rest of the participants had to go through six weeks of hectic training where all aspects from grooming to etiquette to walking on the catwalk, to posing, were covered. She mentioned Dila Hettiarachchi, Graham Hatch, Ramani Fernando and Michael Wijesuriya for helping add the necessary finishing touches at the training stage of the pageant.
"I had the confidence from the beginning," she said, adding that she got her strength from her mother and two older brothers. "My brother came from Denmark and has been with me for the past two weeks," she said.
Apart from flying she also does a bit of interior décor, cross stitching, embroidery and saree designing. Helping people has always been something in her make-up. When she was 17, she started helping a child in her parish by saving her pocket money and giving it to her parish priest and currently she helps four children, from Bandarawela and Galle.
As Miss Sri Lanka 2008 Faith says she hopes to raise her voice to talk about orphans, children and women's rights. The judges for the finals were Rosy Senanayake, Ranjith Fernando, Dileep Mudannayake, Prof. Laxman Wijeweera and Kamini Mukundan.
Miss Sri Lanka 2008 was presented by The International Association of Lions Clubs District 306C-1 in association with Images Studio Pvt. Ltd. The main sponsors were ABC Credit Car and ABC Insurance. The official magazine was Lanka Woman while The Sunday Times and The Daily Mirror were the official print media sponsors. The other sponsors were Ricochet Events and Promotions, Lanka IOC, Sri Lankan Airlines, Sunsilk, Sun-Gold, Glow, Sri Lanka Telecom Mobitel and Jagath Robotics (Pvt) Ltd.