Leading the way for dancing damsels
Vajira Chitrasena on her 76th b'day
On her 76th birthday two weeks ago on March 15, Vajira Chitrasena, Sri Lanka's doyen of dance, had much to celebrate. The surprise concert put on by family and students in the modest confines of the Chitrasena Kalayathanaya was a spellbinding celebration of mastery, commitment and passion to the art form that she and her late husband Chitrasena brought to prominence in the country.
As the dancers and drummers enthralled the audience, daughter Upeka stood on the wings, clicking cymbals to the hypnotic drum beats. Later, she too went on stage, dancing alongside younger dancers with an inimitable finesse of the virtuoso performer she is. And then there was granddaughter Thaji, whose confident mastery of movement and commanding stage presence belied her sylph-like figure. She has the makings a world class performer, and is assurance that the Chitrasena heritage has a promising future.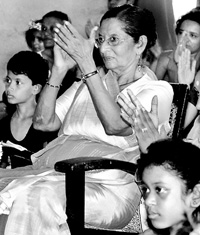 Applause from Vajira
Sinhala dance has come a long way since Vajira embarked on her dance career at the age of 15, first as student and then as wife and lead dancer of her late husband, Sri Lanka's greatest master of dance, Chitrasena. Together, they took traditional Sinhala dance out of the shadows, where it had been stagnating under the oppressive weight of colonialism, and into the country's mainstream cultural roadmap.
They stripped dance off its cultural stigmas, and transformed it into high art. "Chitrasena gave Sinhala dance respect," Vajira says. "In the early years, drummers and dancers were from a lower caste, and were accorded a lowly status. Chitrasena broke that bias. He was from the English speaking upper class and son of a Shakespearean actor Seebert Dias. So, when he embraced dance and brought it to the stage, he brought not only dance, but dancers and drummers due recognition as being an important aspect of the country's culture."
Chitrasena and Vajira innovated and experimented, evolving traditions that featured the Kandyan, mid country and upcountry traditions, based on a foundation of Kandyan dance.
They added meaning to ritualistic dance forms, breathing stories into the movements – thereby giving birth to Sri Lanka's first dance dramas, a genre now known as Sinhala Ballet. At first, they experimented, using a song to tell the story, and then using only the language of gesture and movement to supply meaning. "Then, dance had no meaning. We gave it meaning… we created dance dramas that narrated stories," she says.
Together, Chitrasena and Vajira created more than 100 productions, including masterworks such as Ravana, Chandalika, Nala Damayanthi, Karadiya, and Kinkini Kolama, tirelessly promoting Sinhala dance not only around the country, but across the world. Between them, they nurtured talent such as Ravibandu and Channa, both of whom now have their own troupes. Other big names who went through their school include Premakumar and Sesha Palliakara. Solo dancer Khema too learned under them.
Most significantly,Vajira broke gender barriers, bringing women into the arena of professional dance. Vajira is Sri Lanka's first female professional performer of Sinhala dance. "Then there were no women engaged in dancing Sinhala dance forms professionally. I was the first," she says. "Before that, women dancers emulated male dance movements and even wore costumes primarily designed for male dancers."
Under Chitrasena's tutelage, the young Vajira enriched local dance traditions with graceful feminine movements, known as lassaya. With wardrobe designer Somabandu they created for the very first time, costumes for the female dancers. She is quick to point out that she did not change tradition, but based the new movements on it. Chitrasena was a maestro, and with Vajira by his side, the evolution and blossoming of Sinhala dance was unstoppable.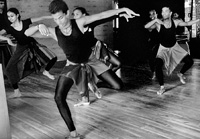 Happy b'day teacher, mother, grandmother.
The female dancers on the stage and in the audience, including the multitude of leotard clad little girls, the most talented of whom may go on to be dance teachers or troupe leaders, were testimony to the large participation of women in dance today, and the keen interest that still exists in dance today – a phenomenon lacking when she was a student.
Most importantly, Chitrasena and Vajira created Sri Lanka's first family of dance, a dynasty of dancers, so dedicated to their art, that they live and breathe it day in and out, keeping the flame alive down the generations. Daughter Upeka took up the family mantle, and granddaughter Thaji is set to follow. Heshma, another grand-daughter, graduated from Berkeley and returned to direct some of their new productions.
Todate, Vajira still keeps an eye on her students. "I have stopped practising dance, but do exercises such as yoga to keep healthy. I watch Upeka and the students. We watch each other perform. When Chitrasena danced, I would watch him practise and keep behind him. I still do that with Upeka and the other students."
She is excited over granddaughter Thaji's obvious star appeal. "Did you see Thaji," she said, excitedly. "She's my granddaughter. I am hoping she will continue to keep our tradition alive." Later, Upeka said, "People say Thaji looks like her grandmother. People who do not know who she is, ask, when they see her dance, who is that girl? They say, that girl looks like Vajira in her youth."
Preserving the purity of the dance has always been a hallmark of the Chitrasena tradition. Whilst commercialization has seen the deterioration of Sinhala dance in other schools, the Chitrasena school has been steadfast in upholding its sanctity. In the Chitrasena school, dancers dance for the sake of the dance, and so the dance becomes the focal point of admiration, and not the physicality of the dancer. Rather, the beauty of the dancer complements the motion of the movements, never detracting from the dance itself.
A point of disappointment is the snail's pace progress of the Chitrasena Kalayathanaya, built on a half-acre plot gifted by the government, in 1998. Only the auditorium – an open air hall – has been erected. The complete vision encompasses six dance studios, a central auditorium, a recording studio, accommodation facilities, and a museum. Lacking sufficient patrons and government support, the school is seeking to raise funds through such means as ticket sales to their performances, to concerts by visiting performers. "This land was a kind gift from the former president Chandrika Kumaratunga. The building was financed by donors. We are still seeking funds for the rest," Vajira says.
With that exception, Vajira could sit back with a proud smile, as she did on her birthday, watching her children, grandchildren and students celebrate the legacy she and Chitrasena created. " What Chitra and I have always said is that we need to learn the dance techniques and bring them forward.
What we add to it is our own creativity," she says. "The younger generation should continue this tradition to keep dance alive and growing into the future."