The largest place of worship for Buddhists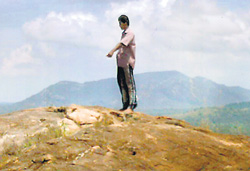 The largest Buddhist flag will fly from atop this1500 ft tall hill.
Plans are underway to build Sri Lanka's largest place of worship, comprising over 1000 Buddha statues in Polpithgama Kodigala Aranaya Senasanaya in Kurunegala.
A 25 foot tall statue of Lord Buddha as well as 1031 other statues including the Maithree Deva Prathima and 28 statues of deities are proposed to be built at the site, while the largest Buddhist flag will fly from the1500ft tall hilltop.
In addition, the premises will be adorned by scenes from the Abhidharmapitakaya, the Sanchi thorana, the Makara thorana and 300 lantern stands.
The shrine is being built by the Wayamba Priyasarana Kala Sansadaya under the direction of Ven. Aparekke Vijithananda Thera, the Viharadhipathi of the hermitage. Well-known sculptor Hemu Anura of Janadaragama in Kurunegala who is also the president of the Priyasarana Kala Sansadaya will be working on the statues.
The hermitage, begun in 1960, was the brainchild of the late Ven. Mahara Nugegoda Samithipara Nayake Thera. With his death in 1994, the present incumbent continued the good work.The foundation stone laying ceremony will be held on April 6. Buddhist devotees are invited to grace the occasion.