Politico grabs Kotte marsh in day-and-night Operation
Urban Development Minister tells The Sunday Times to highlight such illegal acts
A vast, low lying marsh bordering Diyawanna Oya, situated at the bottom of Samarakoon Garden in Kotte is being filled day and night by a powerful politician and neighbours allege that complaints made to the Urban Development Authority, the Sri Lanka Lad Reclamation and Development Corporation and other responsible authorities have fallen on deaf ears.
| | |
| --- | --- |
| | |
| The scenes of a backhoe without being spotted by security guards hovering in the area | More and more being reclaimed |
When we stealthily visited the location on Friday on appeals made by some neighbours we were able to see at first hand the filling of the marsh using tipper trucks and back hoe machines and watched over by at least two guards, possibly from the Ministerial Security Division, carrying walkie talkies.
As we were forced to observe the entire operation from a distance, hiding behind a massive pipeline of the Water Board and some other adjoining locations we were unable to say whether the guards were armed with pistols tucked into their belts as reported by neighbours. We observed that several acres had been filled and leveled recently using heavy machinery and more land was being reclaimed in this manner towards the Diyawanna canal.
According to neighbours the same politico and his wife, who had formerly owned the entire Samarakoon Garden had earlier filled several acres at the same location few years back, but it was brought to a halt after complaining to Deputy Minister of Urban Development Mahinda Amaraweera.
Area people suspect that the haste with which they are illegally filling this marsh, while there is a total moratorium on filling of low lying lands in the Colombo District, is to beat an impending deadline ending on April 30.
Additional Secretary to the Ministry of Urban Development Lakshman Perera contacted in this regard confirmed that they would be demarcating all wetlands and marshes in the district and gazetting same at the end of next month. In January the Ministry had already gazetted and made taboo any encroachments on water retention areas of canal banks in the district.
When we pointed out that the illegal reclaiming that is now going on is very close to the Diyawanna canal, Mr. Perera said it was the Sri Lanka Land Reclamation and Development Corporation, which was empowered to stop such illegal acts.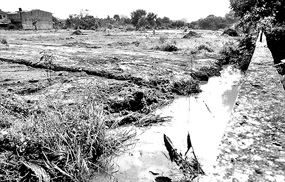 The recently filled and levelled acres of land
SLLRDC Chairman Karunasena Hettiarachchi yesterday admitted that there is a total moratorium on filling of low lying lands in the Colombo District, pending the issuance of the new gazette, but claimed that he had not been informed about the filling that is going on down Samarakoon Garden and promised to take action by Monday.
He said powers given to them under existing Land Reclamation Act were not adequate, unlike under Agrarian Services Act, where people filling a paddy land could even be arrested. Therefore they were now in the process of getting the existing legislation amended to have more teeth.
Mr. Hettiarachchi also said that police were not willing to act without such adequate legal protection. Interestingly one neighbour pointed out that there are other small scale encroachments that were going on in the adjoining areas and earlier the SLLRDC even put up a notice on a newly constructed building on an illegally reclaimed land ordering it to be demolished, but that notice too had been removed after the Minister began filling his section on a massive scale. Yesterday we observed that workers were busy putting finishing touches to this two storey house earlier ordered to be demolished.
This neighbour said in this land grab some were even filling up existing drains, which is certain to cause massive flooding in the area before long. Even we were able to observe and photograph some such haphazard fillings in the adjoining areas.
Minister of Urban Development Dinesh Gunawardena contacted in this regard yesterday asked us to spotlight such illegal acts in the public interest and he assured us appropriate action.
He said it was not an easy task and there hands were full as such illegal filling of lands were going on in many areas. "Just a week ago we had to intervene to stop a similar operation in the nearby Senanayake Avenue," he added.