Dead end for Talawila burglar gang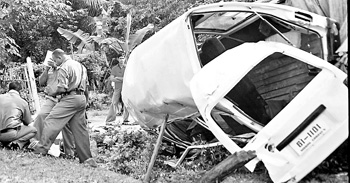 The getaway van after the accident
A group of burglars on the run after allegedly breaking into a house in Talawila, Kalpitiya and stealing a solid gold Buddha statue, a Valampuri and jewellery worth Rs. 700,000 met with a serious road accident in Mangala Eliya, Mundel Police said yesterday.
Three of the burglars died in the accident and five were admitted to the hospital with serious injuries. A police sergeant was among the dead and he could have been leading the burglars, police said.
The men had entered the house and had threatened its occupants before carrying out the burglary. They had then made their getaway in a van. At Mangala Eliya the driver had lost control of the vehicle which hit a culvert and hurtled for about 200 feet before smashing into a shop.One suspect who had run away was caught by the police.
Two 12-bore guns, a galkatas, four swords and a toy pistol were recovered at the site of the accident. Investigations are being conducted by the Mundel Police under the direction of Puttalam SSP Roshan Fernando.