Dialog TV launches 'Channel C', Sri Lanka's first-ever 24hr local music channel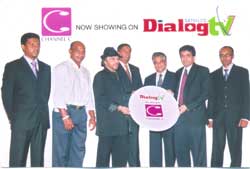 Sunil Perera, Chief Guest of Dialog TV's 'Channel C' launch event, unveiling the Channel C logo alongside Dr. Hans Wijayasuriya, Group Chief Executive of Dialog Telekom PLC. Also in the picture are (L-R) Prasanga Gunasinghe Director Wide Angle Production Private Limited, Sanath Jayasuriya, Nushad Perera CEO Dialog TV, Sarath Kotelawela Director Wide Angle Production Private Limited and Thusitha Wimalasiri, Director Wide Angle Production Private Limited.
Dialog TV, Sri Lanka's popular satellite television service provider, announced the ceremonial launch of 'Channel C', the first-ever 24 hour local music channel, made in Sri Lanka for Sri Lankans, to grace the small screen in the history of Sri Lankan television industry, amidst a large gathering of local artistes and other distinguished guests.
'Channel C' is set to add more variety to the existing portfolio of channels on Dialog TV bringing a line-up of entertaining music related programmes to the viewers. "Channel C" hopes to capture the glitz, the glamour, and the gossip of the music world giving local music lovers a complete and a fulfilling audio and visual music experience.
'Channel C' intends to provide entertainment to audiences of all ages especially to the young music enthusiasts particularly at a time when the local music industry is flooded with young artistes.
Popular film songs, talk shows with famous musicians, chart shows, songs from yesteryear and Bollywood music content are some of the progammes that are lined up for the viewers. "Channel C" is presented by Wide Angle Production Private Limited.
"Television is undoubtedly one of the most powerful communication tools ever to be invented, impacting and changing lives in numerous different ways. While television plays a key role as an educational and information medium, more and more people are turning to their televisions for light entertainment, with music being the main source of entertainment. It is with this interest in mind that we launched Sri Lanka's first ever 24 hour music channel. With a blend of music oriented programmes on Channel C comprising of film songs, chart shows and much more, I'm certain that our viewers will get to enjoy fine quality music content through our 24 hour music channel", said Nushad Perera, Chief Executive Officer of Dialog TV.
Speaking at the launch, Thusitha Wimalasiri, Director of Wide Angle Production Private Limited said, "Even though Channel C is a youth oriented channel, our programme line up is so diverse and entertaining that it can be equally enjoyed by audiences of all ages. Channel C will air a wide variety of popular music tracks with the knowledge of the relevant music owners. We hope that this channel will be of great entertainment to both our viewers and fellow musicians alike."
Wide Angle Production Private Limited is a Music Video Production Company established in 2007. The company is well known for its innovative approach to music video production and has produced many music videos over the years. The company also utilises modern video production technologies and is led by Mr. Sarath Kotelawela along with the creatives of Mr. Prasanga Gunasinghe and Mr. Thusitha Wimalasiri.