'Living in Paradise' a French drama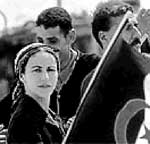 French drama 'Vivre au paradis' (Living in Paradise) will be screened at 3.00 pm on March 25 and at 6.30 pm on March 26 at Alliance Francaise, Barnes Place, Colombo7.
Bourlem Guerdjou directed this French-Belgian-Norwegian-Algerian co-production, a drama set in the Paris suburbs during the early '60s.
Algerian immigrant Lakhdar (Roschdy Zem) works at a building site and lives in a corrugated metal hut. Since Lakhdar is literate, he helps others send letters home. He misses his wife and children and invites them to come live with him. However, his wife Nora (Fadila Belkebla) is disturbed by life amid the shantytown squalor and becomes politically active. In hopes of moving his family into an apartment, Lakhdar moonlights at a warehouse night job.
Starring Roschdy Zem (Lakhdar), Fadila Belkebla (Nora), Omar Bekhaled (Rachid), Farida Rahouadj (Ouarda), Ramzi Brari (Brahim) and Mustapha Adouani (Belkacem), the film won critically acclaimed at a number of film festivals.